Loading...


Economy and Business



Friday, June 28, 2013




Quaker Square Inn converting to residence hall




Historic hotel will go from hosting visitors to Univ. of Akron students


by WKSU's KABIR BHATIA


Reporter
Kabir Bhatia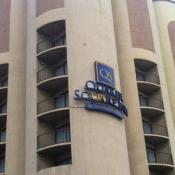 Quaker Square was a Quaker Oats factory from 1932-70. It re-opened as an office/retail center in 1975, with the hotel opening as a Hilton in 1980.
Courtesy of Mark Urycki
Download (WKSU Only)
In The Region:
The Quaker Square Inn is closing to the public this Sunday and will be converted to dorms for the University of Akron. WKSU's Kabir Bhatia reports on the future of the historic complex.
Decades ago, three-dozen round silos in downtown Akron stored Quaker oats. They were converted to hotel rooms in 1980. When the university bought Quaker Square in 2007 for more than $22 million, about half the rooms were set aside for students. Now the university will spend about $700,000 converting the remaining rooms to dorms. The move will allow Akron to close two older residence halls on campus. The rest of the Quaker Square complex will be largely unaffected. The former hotel's banquet rooms, the ballroom at Quaker Station, and most of the shops and offices will remain open. Quaker Square was built in 1932 and served as a Quaker Oats factory until 1970. It was added to the National Register of Historic Places in 1979.
---
---
---
Stories with Recent Comments