Loading...


Government and Politics



Friday, June 28, 2013




Lawmakers react to state budget as it awaits Kasich's signature




Republicans tout tax cuts, while Democrats say they don't help the middle-class




by WKSU's STATEHOUSE BUREAU CHIEF KAREN KASLER



Reporter
Karen Kasler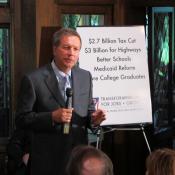 When asked whether he'll use a line-item veto on abortion-related measures in the budget, Kasich said, "keep in mind that I'm pro-life."
Courtesy of Karen Kasler
Download (WKSU Only)
In The Region:
The only thing that's left for the state budget is a signature from Gov. John Kasich. Statehouse correspondent Karen Kasler reports on the reaction of the governor and other key leaders to the budget as they wait for the signing ceremony Sunday.
Though the budget that passed the House and Senate is markedly different than the one he proposed in February, Gov. John Kasich says he's happy with it. But he says the phased-in income tax cuts of 8.5 percent, 9 percent and 10 percent, and the 50 percent tax cut for small businesses, along with the increase of the state sales tax to 5.75 percent, aren't enough.
"We intend to emphasize incentives for those who take risks, those who create jobs and those who work. And we believe that consumption being rewarded is not the smartest economic policy because our economic policy is designed to grow jobs."
Kasich spoke to reporters at the governor's residence, along with House Speaker Bill Batchelder and Senate President Keith Faber. And as the three Republican leaders sat together and shared a microphone, the visual suggested that they'd been working together all along – though Batchelder and Faber stripped from Kasich's budget a lowering and expansion of the state sales tax, his tax increase on big oil and natural gas drillers, and his proposed Medicaid expansion.

A Medicaid expansion to come
On that last note, Batchelder said stay tuned.
"We are down the road much farther than we are prepared to discuss. Medicaid, in my opinion, will come this year. I have no doubt about that."
And Faber added that there's a lot going on with Medicaid in the budget without the expansion.
"So while there could be a lot of discussion about adding another 250,000 Ohioans to the Medicaid rolls, and we're going to have that discussion going forward, don't forget that this budget is essentially funding 231,000 more Ohioans anticipated on Medicaid now."
Kasich says he has a commitment from Batchelder and Faber that the tax cutting isn't over yet. Kasich has been clear in his dislike for the income tax, and sales taxes could be a vehicle to pay for another cut.

Another view
No Democratic lawmaker voted for the budget. And among the Democrats criticizing it is Cuyahoga County executive Ed FitzGerald, the party's likely nominee to run against Kasich next year.
"This budget is just a train wreck for the middle-class. What you're seeing happening is income tax for the very wealthiest people in the state being paid for by really increasing the tax burden overall on the middle-class and the poor."
Also blasting the budget is the progressive think-tank Innovation Ohio. Dale Butland cites an analysis from the Plain Dealer which says the tax cuts in the budget would save 80 percent of Ohio's small businesses around $400 – not enough, he says, to create even one job.
"This is just another giveaway to the wealthiest Ohioans at the expense of the rest of us."

Line item vetoes?
Kasich says most of those who are criticizing the budget are those who, in his words, delivered us an $8 billion hole when we came in. Kasich has the power to cross out budget items, but he won't tip his hand as to what he might be considering, even when asked about whether he'll use the line-item veto on abortion-related measures in the budget, including a last-minute addition that requires a doctor inform a woman seeking an abortion of the presence of a fetal heartbeat. On that, Kasich said, "keep in mind that I'm pro-life."
---
---
---
Stories with Recent Comments