Loading...



From WKYC.COM / TV 3
Get the latest school closings and delays


Funding for WKSU is made possible in part through support from the following businesses and organizations.
---
For more information on how your company or organization can support WKSU, download the WKSU Media Kit.

(WKSU Media Kit


)
---

Ohio



Saturday, June 29, 2013




Kasich and Chris Christie look toward 2016




Ohio and New Jersey Governors discuss a Politico story on who might run for president


by WKSU's KABIR BHATIA


Reporter
Kabir Bhatia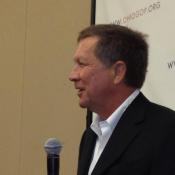 Gov. Kasich and New Jersey Gov. Chris Christie discussed an article saying Kasich's work in Ohio is "a blueprint for success"
Courtesy of M.L. Schultze
Download (WKSU Only)
In The Region:
Gov. John Kasich says he and New Jersey Gov. Chris Christie have been exchanging text messages about political speculation involving the 2016 presidential race.

Kasich told the Associated Press Friday he's focused on his current job and not thinking about "other hills to climb."
He added that Christie, another prospective GOP contender in 2016, texted him about a Thursday story on political website Politico. The story labeled Kasich's work since taking office in 2010 as a "blueprint for success."

The article also said Republican leaders could seriously consider Kasich as a presidential candidate or running mate if he wins re-election by a solid margin next year.

Kasich told Christie he hadn't read the story.
---
---