Loading...



From WKYC.COM / TV 3
Get the latest school closings and delays


Funding for WKSU is made possible in part through support from the following businesses and organizations.
---
For more information on how your company or organization can support WKSU, download the WKSU Media Kit.

(WKSU Media Kit


)
---

Ohio



Sunday, June 30, 2013




Ohio Gov. Kasich keeps anti-abortion language, drops Medicaid ban in the new budget




Governor's line-item veto keeps hopes for expanded Medicaid alive


by WKSU's M.L. SCHULTZE


Web Editor
M.L. Schultze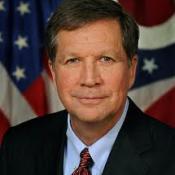 Kasich's line-item veto struck 22 provisions from the state budget.
Courtesy of State of Ohio
Download (WKSU Only)
In The Region:
Gov. Kasich has vetoed nearly two dozen items in the state budget, including language that would have prohibited expansion of Medicaid. The two-year budget he signed Sunday still does not expand Medicaid, as Kasich had wished, to some 275,000 poor and working class Ohioans. But had he not vetoed the language, he and other proponents would have been blocked from working on the expansion through any other bills. Kasich also vetoed language that would have given more money to nursing homes, allowed chiropractors to assess student athletes for concussions, and set mandates on how schools spend money for gifted education. But Kasich let stand controversial language to limit abortions. That includes cutting funding for Planned Parenthood while increasing it for pregnancy counseling centers that are often opposed to abortion, requiring abortion clinics to do ultrasounds for fetal heartbeats and prohibiting public hospitals from signing transfer agreements with abortion clinics.

Kasich and fellow Republicans say the budget's cuts in income and small-business taxes will boost Ohio's economy. Democrats condemn the budget as part of an ongoing war on women. They also maintain its increases in sales and property taxes are an attack on the middle class. Here is the governor's executive order outlining his vetoes: www.governor.ohio.gov/Portals/0/FY2014-15 Budget Veto Messages.pdf
---
---