Loading...


Government and Politics



Monday, July 1, 2013




Kasich signs budget, doesn't strike abortion language




Also drops Medicaid ban in signing just hours before the start of fiscal year




by WKSU's STATEHOUSE BUREAU CHIEF KAREN KASLER



Reporter
Karen Kasler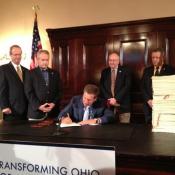 Gov. Kasich signs the state's new budget. Behind him (l to r): Sen. Bill Coley (R-Middletown), Sen. Scott Oelslager (R-Canton), Senate President Keith Faber (R-Celina), Rep. Ron Amstutz (R-Wooster), Rep. Jeff McClain (R-Upper Sandusky) and OBM Director Tim Keen
Courtesy of Karen Kasler
Download (WKSU Only)
In The Region:
After months of discussion and debate and several days of lingering questions, the state has a new two-year, $62 billion budget. Statehouse correspondent Karen Kasler reports the signing came with just hours to go before the new fiscal year.


The budget includes a gradual income tax cut over three years for everyone, a 50 percent income tax cut for small businesses, an increase in the state sales tax along with an expansion to digital downloads and magazine subscriptions, and some property tax changes. Gov. John Kasich said he was pleased with it, though it didn't include his proposed Medicaid expansion.

"We're going to continue to push forward with additional programs to help those who are poor and disadvantaged. We're proud of our tax cuts because we think this is another installment in Ohio's comeback."

For many people, the big questions centered around what – if anything – the governor would target as line-item vetoes. As most expected, Kasich struck lines that would have prohibited Medicaid expansion. But lawmakers would still have to approve Medicaid expansion for it to go forward. But Kasich didn't veto any of the abortion-related measures in the budget, including what Republican lawmakers called the re-prioritization of Planned Parenthood funding - essentially stripping its state funding - and a last-minute addition to require a doctor inform a woman of the presence of a fetal heartbeat before performing the procedure. He hinted at that in a press conference on Friday. "Keep in mind that I am pro-life."

Democrats and pro-choice groups were furious, e-mailing and tweeting angry responses to the governor's decision. That included his likely opponent next year, Cuyahoga County executive Ed FitzGerald, who on Friday had blasted the budget as being a train wreck for the middle class before he said he would veto the abortion-related provisions.

"I would – every single one that was in there."

Among Kasich's 22 vetoes were lines exempting spider monkeys from the new exotic animals law and additional 60 million dollars for nursing homes. He's struck extra nursing home money from the budget before. And he noted that he'd also vetoed a provision exempting the purchases of equipment for aerospace research and development from the sales tax before when striking that exemption again. The governor took no questions on his line item vetoes.
---
---
---
Stories with Recent Comments