An anchor for downtown Akron
When Canal Park was first built, it was meant to improve the whole downtown, commentator Terry Pluto says.
"The idea in Akron when Mayor Don Plusquellic urged to have them build Canal Park was that it would become one of those magnet, anchor things in downtown Akron," Pluto says. "I can tell you that area was pretty desolate before Canal park moved in. The idea was for Canal Park to become a catalyst for downtown Akron and 16 years later, I think, in a lot of ways, that's happened."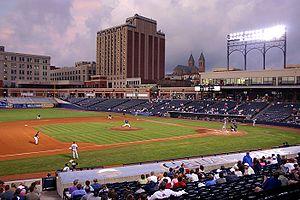 A stadium in decline
But in the last few years, the stadium and the fan experience went downhill, Pluto says.
"The previous ownership just let it run down," Pluto says. "The scoreboard had lights that were out. You'd walk into the restrooms, they weren't clean. It seemed like they weren't really thinking about what people wanted at the concession stand. It was running on automatic pilot."
New ownership, new life
But Pluto says new owner Ken Babby is taking new approaches. Babby, whose father Lon Babby is president of the Phoenix Suns, will probably go on to own more minor league or even a major league franchise and is using the Aeros to test techniques for running a team and attracting fans.
But first, "he's having to make up for a lot of ill will the last number of years that the absentee owners created," Pluto says. "Most of the suites were not sold anymore and people just didn't seem to care about it. The novelty of the new park wore off.

"But now it looks a lot more like a new ballpark than it did even last year just by sprucing it up quite a bit and getting a new scoreboard and some other things."

A special relationship
Beyond that, the Indians have teams at four levels of the minor and major leagues in Ohio, and Pluto says that creates a special relationship with the fans.

"I know some people who have watched players at all four levels," Pluto says. "They got to be friends with them, because in the minor leagues, even in Akron, some nights there's a thousand people or less there. You actually get to know the players."

That's especially important in the minor leagues, he says, because the draw is less about the team's performance and more about the fan experience.

"When you're running that franchise it isn't so much what's happening on the field," Pluto says. "It's how you're taking care of your fans."



Other options:

MP3 Download
(3:33)
Other options:

MP3 Download
(4:41)