Loading...


Economy and Business



Tuesday, July 2, 2013




Honda and GM fuel-cell collaboration could benefit Buckeye manufacturing




Honda's deep ties to Ohio, and the state's expertise in fuel-cell technology, are positive signs for future investments


by WKSU's JEFF ST. CLAIR


Reporter / Host
Jeff St. Clair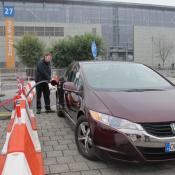 A driver in Germany pumps hydrogen into his Honda FRX Clarity fuel-cell car. A small number of the cars are leased in Europe and the U.S., mostly in California. A lack of hydrogen fueling stations, and the high price of fuel-cells, are major hurdles to widespread acceptance of the technology.
Courtesy of CC
Download (WKSU Only)
In The Region:
Fuel cells use hydrogen to generate electricity, and water is all that comes out of the exhaust, which is good for the environment. But, they're expensive to build. That's why Honda and GM are combining research efforts to drive down the cost of production. This new deal comes after similar partnerships were announced earlier this year between Toyota and BMW, and between Ford, Daimler, and Nissan. Honda's largest R&D facility outside Japan, is near Marysville, Ohio. It's one of four centers where spokesman Ed Miller says Honda and GM will collaborate on fuel-cell research. Miller says it's also Honda's North American purchasing hub, which benefits local manufacturers.
"Last year Honda purchased $24 billion worth of vehicle parts, and about 40 percent of that was within the state of Ohio."
Miller says no decisions have been made about where fuel cell cars will be built, but that, as the center of Honda's North American manufacturing operations, Ohio is well situated for that role.
The collaboration between Honda and GM to develop cheaper fuel cell technologies will span through 2020.
---
---
---
Stories with Recent Comments