Loading...


Courts and Crime



Wednesday, July 3, 2013




Castro competent to stand trial, but can't see his daughter


Mental evaluation says the alleged kidnapper and rapist understands the charges and can aid with his defense

by WKSU's KEVIN NIEDERMIER


Reporter
Kevin Niedermier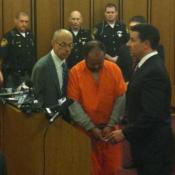 Accused hostage taker Ariel Castro has been found competent to stnad trial.
Courtesy of Kevin Niedermier
Download (WKSU Only)
In The Region:
The Cleveland man accused of holding three women captive in his home for a decade is competent to stand trial. Judge Michael Russo ordered the psychiatric evaluation of Ariel Castro last week to make sure he understands the case against him. Castro's attorneys and the prosecution agree with the findings presented in court today.
Also during his pre-trial hearing, Castro asked the judge to let him see the 6-year-old girl he fathered with one of the women he's accused of abducting and raping.
"I won't allow that during the course of this case," responded Russo. "I just think it would be inappropriate,"
Castro is allowed phone contact only with his mother and sister.

He is facing 329 charges of rape, kidnapping, assault, and aggravated murder for allegedly forcing one of the women to miscarry a child. Castro's attorneys say he is willing to plead guilty to some charges and avoid a trial if there is no call for the death penalty.
---
---
---
Stories with Recent Comments