Loading...


Health and Medicine



Friday, July 5, 2013




Distracted walking injuries are on the rise




Ohio State study says cell phone use can injure walkers as well as drivers




Story by

LYNDSEY SCHLEY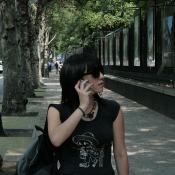 An OSU study says distracted walking can be dangerous.
Courtesy of David Borja Mondragon
Download (WKSU Only)
In The Region:
We have all heard distracted driving is dangerous but a new study from Ohio State University shows that distracted walking may be dangerous too. Jack Nasar, who co-authored the study, says in 2010 about 1,500 people ended up in emergency rooms due to distracted walking. That number has steadily increased with the use of cell phones. He estimates the real number could be much higher, somewhere in the tens or hundreds of thousands, because not all injuries are counted.
"So first, if you have an injury and don't have health care, you may not go to an emergency room," Nasar says. "If you didn't think it was a major injury, you might not go to any doctor. Also, the emergency room injuries don't count deaths."
Nasar also says people under 25 had the most injuries. He says it is important to stop and find a safe place to use a phone while walking and for parents to teach their kids to text safely.
---
---
Stories with Recent Comments