Loading...


Government and Politics



Wednesday, July 3, 2013




Tea Party takes on Ohio Gov. Kasich and his policies




Portage County Tea Party leader says his group will fight Kasich's Medicaid expansion plans, and that the governor's conservative support is waning




by WKSU's STATEHOUSE BUREAU CHIEF KAREN KASLER



Reporter
Karen Kasler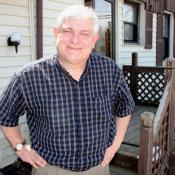 Tom Zawistowski, head of the Portage County Tea Party, stands outside his Kent business office. Zawistowski says conservative support for Gov. John Kasich is waning as Kasich continues to push for Medicaid expansion.
Courtesy of Jeff St.Clair
Download (WKSU Only)
In The Region:
A Tea Party leader who's been critical of Republican leadership says he's been speaking to Republican and conservative groups throughout Ohio. And Portage County Tea Party executive director Tom Zawistowski says support for Gov. John Kasich's re-election next year is waning.
Zawistowski says Tea Party groups are planning to protest Kasich's idea to expand Medicaid by using a little-known provision in IRS rules to challenge the salaries of hospital executives who have joined the governor in pushing for expansion. Zawistowski says those hospital leaders are highly-paid, and he says that casts doubt on the hospitals' claims that they'd be in serious financial trouble without Medicaid expansion.
Zawistowski adds: "There definitely will be challenges to Gov. Kasich – I know that for a fact."
---
---
---
Stories with Recent Comments