FirstEnergy shutting down two coal plants
Akron-based FirstEnergy says it will deactivate two coal-fired power plants in Pennsylvania by early October in order to comply with environmental regulations and because of the cheap prices for electricity. The Hatfield's Ferry and Mitchell power stations generate about 10 percent of FirstEnergy's power. But it says upgrading the plants would cost about 30 percent of the more than $900 million First Energy has set aside to meet clean-air standards.
FirstEnergy the shutdowns will affect nearly 400 employees but doesn't specify what will happen to them.
Gay rights advocates push Portman on workplace discrimination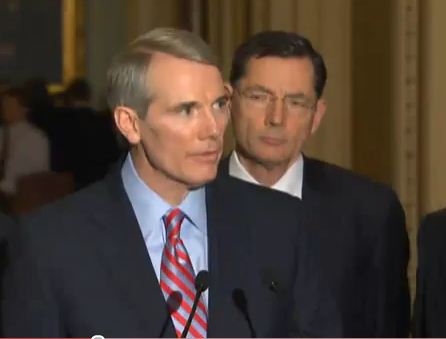 Gay-rights activists are expected to ramp up pressure on Ohio's U.S. Sen. Rob Portman to support a bill that prohibits workplace discrimination against gay, bisexual and transgender people.
The group is gathering Wednesday at the federal building in Columbus to push Portman to support the Employment Non-Discrimination Act. The bill would outlaw discrimination in hiring, promotion and firing based on sexual orientation or gender identity.
One mother speaking at the press conference is Lyn Herron – who says her straight son was a top salesman but denied promotions because his boss thought he was gay. Ohio's other senator, Sherrod Brown, is backing the bill. Portman, who announced his support for gay marriage after his son came out earlier this year, has not committed to the bill.
Obama, Fudge, Black Caucus meet
President Obama is meeting today with the Congressional Black Caucus, shared by Warrensville Heights Rep. Marcia Fudge. According to the Bloomberg News, this is time the president has met with the group in more than two years. They'll be talking about jobs and the economy.
Voting rights hearing in Columbus
A federal judge will hold a hearing Friday on whether to extend a consent decree that bars boards of elections from limiting voters who don't have certain forms of ID. Under the decree issued in 2010, voters who don't have utility bills, bank statements, driver's licenses or similar forms of ID could still vote, albeit provisionally so their ballot could be checked later. Chandra, a Cleveland law firm that represents homeless causes is pushing to extend the decree, which was to expire at the end of June.
Anonymous hacker sentenced
One of two Ohio men who identified themselves with the Anonymous computer hacking network has been sentenced to three months at a halfway house and three of house arrest.
Twenty-seven-year-old Brett Hudson of Wilmington and his co-defendant 25-year-old Alexander Waterland of Loveland pleaded guilty in October to threatening to release private information from the University of Pittsburgh.
Waterland previously was sentenced to a year. Hudson's sentence includes probation, and allowed probation officers to monitor his computer.