Loading...



From WKYC.COM / TV 3
Get the latest school closings and delays


Funding for WKSU is made possible in part through support from the following businesses and organizations.
---
For more information on how your company or organization can support WKSU, download the WKSU Media Kit.

(WKSU Media Kit


)
---

Environment



Tuesday, July 9, 2013




Toxic algae season blooms in Ohio




Three western Ohio locations have already found the algae in their water




Story by

LYNDSEY SCHLEY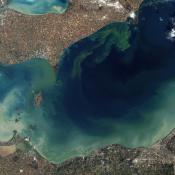 This satellite image shows algae coverage of Lake Erie in 2011, the worst year for algae on record.
Courtesy of NASA
Download (WKSU Only)
In The Region:
Toxic algae season is here, with warnings already posted in three western Ohio locations. Dina Pierce of the Ohio EPA says the blue-green algae was reported in C.J. Brown Reservoir, East Fork Lake and Grand Lake St. Marys, all locations with a history of the blooms. She says dying algae produces toxins.
"Some of those toxins can be harmful to both humans and animals," Pierce says. "[These include] liver toxins, skin toxins and nerve toxins. So it's important for people to be aware.""
Pierce says she expects the blooms will be worse than last year because of heavy rain washing nutrients from fertilizer and sewage into the water. She says the blooms will peak in August or September, but will not be as bad as 2011, the worst year on record.
Pierce says the state is trying to educate the public on how to keep algae at bay. She says people should avoid using fertilizers when they are not needed or any fertilizer with phosphorus. Cities are also working to improve sewers and stop overflows.
Page Options

Print this page

E-Mail this page / Send mp3

Share on Facebook
---
---
Stories with Recent Comments