Loading...


Ohio



Thursday, July 11, 2013




Storm cleanup continues in Cleveland




Tower City RTA station, City Hall back to normal


by WKSU's KABIR BHATIA


Reporter
Kabir Bhatia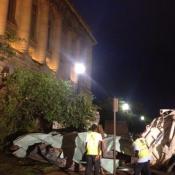 No one was hurt when this pile of twisted metal fell from the roof of Cleveland City Hall during Wednesday's storm
Courtesy of Carl Carlson
Download (WKSU Only)
In The Region:
A record 16 days of rain in Northeast Ohio was capped by fast-moving storms and floods that tore through Wednesday afternoon. Now, as WKSU's Kabir Bhatia reports, the region is trying dry out.

A pile of twisted metal was hauled away – slowly – next to Cleveland City Hall. Just a few yards from the "Free" stamp, the flashing fell from the three-story building's roof during the late afternoon storm that quickly swept its way from Toledo to Zanesville and on to Pennsylvania. No one was injured by the copper piece, which is about the size of two pickup trucks.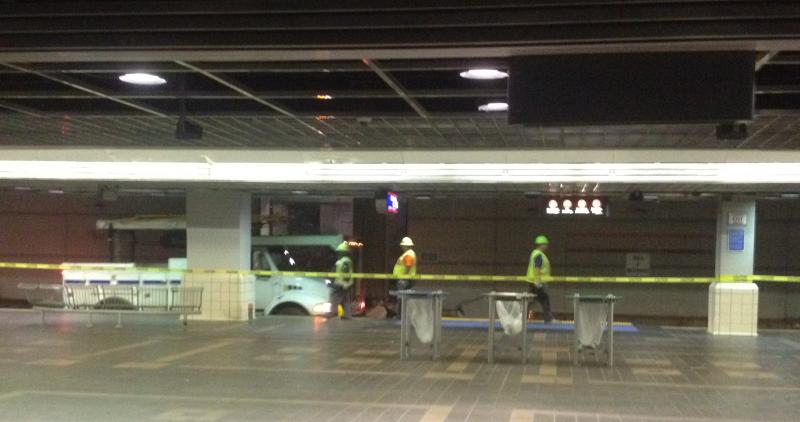 In downtown Cleveland, a section of wall collapsed in the Tower City RTA station. That knocked out a westbound set of tracks on the Red Line. Patrick Jones of Cleveland was going downtown three hours after the storm from the east as his train slowly lurched from E. 34th Street to Tower City.

"They're saying everything's delayed. It makes me wonder about these undergrounds and going into Tower City. Is the whole thing going to fall? It's the structure. I mean, if the wall fell, how sturdy is the rest of it?"

In the other direction, Dave Eager was going west-to-east.

"I got on at the airport, and there was no delay. It was perfect. It was a great ride."

The westbound Red Line RTA tracks, which head to the airport, were being re-routed and the Waterfront Line was replaced by shuttle busses. But by 10 p.m. Wednesday, both lines were back in service.
---
---
---
Stories with Recent Comments