Loading...


Education



Monday, July 15, 2013




Ohio budget has a $6 million earmark to boost Cleveland schools




Money is to boost the transformation plan




by WKSU's MOLLY BLOOM



Reporter
Molly Bloom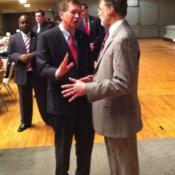 Republican Gov. Kasich and Democratic Cleveland Mayor Jackson worked together on the schools transformation plan.
Courtesy of Kevin Niedermier
Download (WKSU Only)
In The Region:
The Cleveland school district is in the midst of an ambitious effort to turn around local schools. Last year, lawmakers in Columbus passed new laws to let the district make sweeping changes. And now lawmakers are offering another form of support: an additional $6 million set aside just for Cleveland in the state budget. StateImpact Ohio's Molly Bloom reports.
The $6 million earmark for Cleveland schools is intended to support the Cleveland Transformation Plan.
That's the package of laws enacted last year that lets the district make changes in how it hires, fires, and pays teachers and allows it to share local tax dollars with charter schools.

This earmark gives Cleveland additional money beyond the state funding that all school districts get.

The money comes on top of a new tax levy voters approved last year. That levy adds about $77 million annually to the district's budget over the next four years. The new money was added to the state budget in the conference committee, after the House and Senate voted on the budget and just a couple days before the final deadline for Gov. John Kasich to sign the state spending bill.

And while there are other school earmarks in the state budget, those are much smaller than this one.

State Sen.Tom Sawyer of Akron was a member of the budget conference committee. He says the Cleveland school reform efforts justify the big, special investment from the state. He says, for now, Cleveland is the only district in that position.



---
---
---
Stories with Recent Comments