Loading...


Courts and Crime



Wednesday, July 17, 2013




Castro's attorney says he has no plans to delay the trial




Accused Cleveland kidnapper pleads not guilty to nearly 1,000 charges and is still hoping to avoid the death penalty and strike a plea deal


by WKSU's KEVIN NIEDERMIER


Reporter
Kevin Niedermier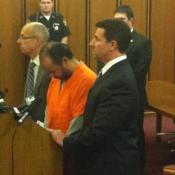 Accused kidnapper Ariel Castro as pled guilty to nearly 1,000 charges in his second arraignment . His trial is set to begin August 5th.
Courtesy of Kevin Niedermier
Download (WKSU Only)
In The Region:
Ariel Castro pleaded not guilty today to nearly 1,000 charges accusing him of rape, kidnapping, child endangering and aggravated murder.

It was Castro's second arraignment following his arrest last spring for allegedly holding three women captive for a decade in his Cleveland home.
The long list of charges reflects what Cuyahoga County Prosecutor Timothy McGinty says are crimes Castro committed against the women each day of captivity until they escaped last May.

Castro's defense attorney, Craig Weintraub, says he is still talking with the prosecutor about a possible plea deal.
"The process is obviously continuing. We do have a trial date of Aug. 5th, which we don't intend to move. So we are preparing for that trial, however, with the goal in mind of trying to resolve this case for the fairness of the women, as well as the community, so everyone can put this behind them."
For Castro to plead guilty to some charges, Weintraub says prosecutors must agree not to call for the death penalty. But prosecutors say they're still considering death penalty specifications tied to charges Castro forced one of the women to miscarry.
---
---
---
Stories with Recent Comments