Gov. Kasich says Ohio's economy has improved significantly since he took office. Speaking to business leaders a couple of months ago, Kasich said revenues are up.
"We've had about a $10 billion turnaround in two years. I come in, we are $8 billion in the hole. … And we are now going to be, at the end of the fiscal year, with about a $2 billion surplus. And that's in two years."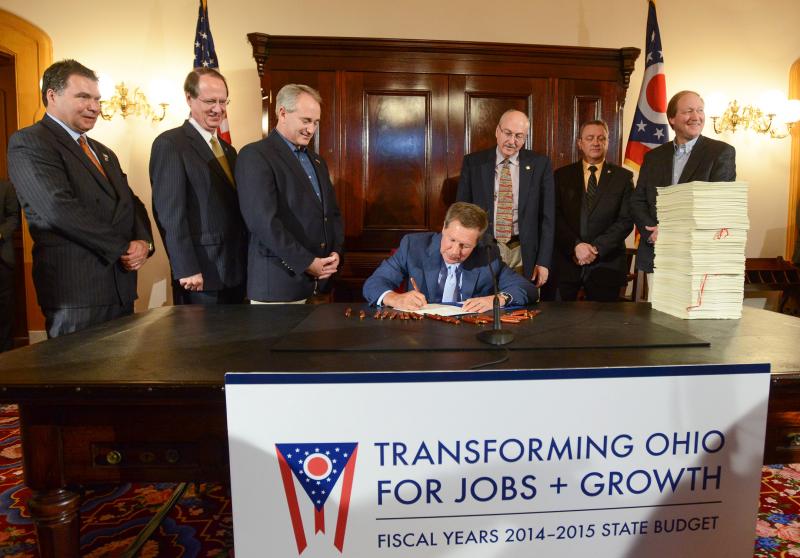 Federal and state statistics prove revenues are indeed up in Ohio. So is the number of housing permits issued. And the number of new business filings is also increasing. But likely Democratic gubernatorial candidate Ed Fitzgerald says new federal and state numbers prove things are not looking up for the state's overall economy.
"There have been a lot of comments made by the governor that the Ohio economy is a miracle. These latest statistics are the most recent example that is not the case."
FitzGerald says the new numbers raise questions about Kasich's narrative
Numbers from the U.S. Department of Labor and the state Department of Job and Family Services show Ohio's unemployment rate rose in June to 7.2 percent. That's up from May's jobless rate of 7 percent. The statistics show Ohio lost 12,500 jobs in June. And only Tennessee lost more jobs last month.
There's another trend here, too. Ohio's growth rate is 0.3 percent over the past year while the growth rate for the nation is more than 1.6 percent. Fitzgerald says these numbers prove Ohio is on the wrong track.
"There's been an overall economic improvement in the country. And the question is: Are we above average or below average in terms of job creation in the last year or so? And the answer is: It's not just this month's bad job numbers.
"The fact is if you go back 12 or 13 months, we are consistently below the national average. And the budget that just passed is not going to help the situation any. The fact that sales taxes are going up for everybody, the fact that virtually everybody's property taxes are going to go up -- this is going to make the state a less attractive place to do business."
Kasich says he sees sustained growth
So where are the major job losses in Ohio? The statistics show more than half of the jobs lost in June were local government jobs. FitzGerald says those jobs are teachers, firefighters, police officers and others that make a community thrive. And he says those job losses are due to Gov. Kasich and his fellow Republicans, who cut state funding to local communities in the past couple of years.
In a written statement, Kasich spokesman Rob Nichols takes a different view of the jobs situation in Ohio. Nichols says, "Ohio's labor force grew by 6,000 last month and by 27,000 so far this year because so many Ohioans have a renewed confidence in Ohio's economic opportunities."
Nichols says Ohio has to keep pushing forward with job friendly policies that work, fiscal responsibility, tax cuts, streamlined regulations and workforce training so more Ohioans can share Ohio's economic recovery.
Ohio's unemployment rate remains better than the nation's unemployment rate. It stands at 7.6 percent.