Loading...


Health and Medicine



Monday, July 22, 2013




Floods spawn large numbers of mosquitoes in Northeast Ohio




Bugs are aggressive biters, but do not carry West Nile virus




Story by

LYNDSEY SCHLEY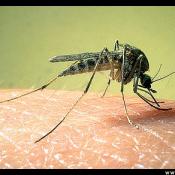 Aggressive mosquitoes are spawning in large numbers due to recent flooding.
Courtesy of Alberto Garcia Quesada
Download (WKSU Only)
In The Region:
Recent flooding has spawned large numbers of mosquitoes throughout Northeast Ohio. But Dr. Gary Bollin from Akron General Hospital says these bugs will be more of a nuisance than a danger. That is because flood-loving mosquitoes are aggressive biters, but do not carry illnesses, such as West Nile virus. Bollin says there have been no cases of West Nile detected in humans in Ohio this year. But he says it is still early for virus-carrying species. And while these viruses are rare, he says it is always good to be aware of the symptoms.
"Things that would maybe tip them off that they should be checked out include a headache that persists and doesn't go away, maybe some nausea, loss of appetite, maybe some sensitivity to light and sound and a fever," Bollin says. "If you see a combination of those things or the family notices that an individual has changes in personality and mental status, they should be checked out."

Health departments usually spray only for West-Nile-carrying mosquitoes, but Terry Tuttle of the Summit County Health Department says Summit is spraying once a week in flooded areas to keep the nuisance bugs at bay.


To limit mosquito bites, Tuttle suggests using repellents and emptying standing water. He also says using a fan will help keep the bugs away, because mosquitoes are poor fliers.
---
---
Stories with Recent Comments