Loading...


Courts and Crime



Sunday, July 21, 2013




Search for bodies continues after arrest of possible Anthony Sowell copycat




Three bodies found in East Cleveland may be tied to 35-year-old registered sex offender, convicted of rape


by WKSU's KABIR BHATIA


Reporter
Kabir Bhatia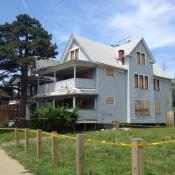 This house at Shaw and E. 139th in East Cleveland has been searched at least twice this weekend after one body was found inside
Courtesy of K. Bhatia
Download (WKSU Only)
In The Region:
Police in East Cleveland are searching the city for bodies after arresting 35-year-old Michael Madison. He's suspected of dumping three bodies, all believed to be female, found on Friday and Saturday.

One was discovered in an abandoned house at Shaw and E. 139th, just a few blocks north of Euclid Avenue. Carolyn Jones has lived across the street for 50 years.
"We don't see nobody going in there. That's what I don't understand how they got the bodies in there. Unless they went in the other side where no one can see. The neighborhood is quiet. You don't see no ruckus going on in here."

Her block has been searched at least twice this weekend.

Madison is a registered sex offender. East Cleveland Mayor Gary Norton says Madison has made statements indicating he might have been influenced by Anthony Sowell.

Sowell was convicted in 2011 of killing 11 women and stashing their bodies in his Cleveland home.
---
---
---
Stories with Recent Comments