Loading...


Government and Politics



Monday, July 22, 2013




Sherrod Brown announces bill to combat overdraft fees




Brown says banks do not disclose overdraft practices and charge consumers more




Story by

LYNDSEY SCHLEY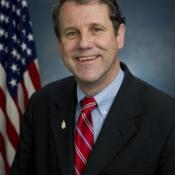 Ohio's U.S. Senator Sherrod Brown says his bill will help consumers limit overdraft fees.
Courtesy of U.S. Senate
Download (WKSU Only)
In The Region:
Ohio's U.S. Senator Sherrod Brown announced a bill to combat predatory overdraft fees today. Brown says banks are reordering transactions from largest to smallest instead of in the order they occur so the banks can charge more overdraft fees. He says these fees are an average of $34per overdraft. Brown says his bill will require banks to disclose their policy on how they order transactions so consumers can avoid the fees.
"It's just too bad these mega banks, these Wall Street banks look for every opportunity to extract every single cent they can from working class, low income and middle class consumers," Brown says.
Brown also says the Consumer Financial Protection Bureau will keep an eye on banks to prevent predatory overdraft fees. He will introduce the bill in the Senate before the August recess.
---
---
Stories with Recent Comments