Second woman identified in East Cleveland murders
East Cleveland police have identified another of the bodies they uncovered over the weekend. She's 28-year-old. 28-year-old Shetisha Sheeley of Cleveland.
Responding to reports of a terrible odor, police began investigating a garage Friday, and discovered the first body. They uncovered two others Saturday and identified one of them yesterday as 38-year-old Angela Deskins. Tatoos on the third body led them to identifying Sheeley. Both Deskins and Sheeley have been missing since June 7.
East Cleveland Mayor Gary Norton says he knew Deskins family personally and that she was a very trusting person.
Michael Madison is accused of killing all three of the women. A convicted sex offender, he's being held on $6 million bond.
Lake County asks for emergency help
Lake County is pushing for an emergency declaration after storms on Saturday flooded the region.
The Plain Dealer is reporting that the county is applying for both state and federal help with the cleanup, from the narrow band of storms that flooded more than 10,000 homes and businesses east of Cleveland. Many were flooded with sewage as well as rain water.
A tornado destroyed the gym and damaged other buildings at Ursuline College in nearby Pepper Pike. The college reopened for classes today.

Fair Finance recoups country club fees
The Beacon Journal is reporting that the bankruptcy fund for the former Fair Finance is growing by $157,500 – Country Club fees for a co-owner who is now in prison.
The membership in the Illinois club was in the name of James Cochran. He and co-owner Timothy Durham, as well and Chief Financial Officer Rick Snow, were convicted of siphoning some $200 million out of Fair Finance after they bought the small Akron-based consumer loan company in 2002 and inflated its value. More than 5,000 investors are trying to recoup a share of their money.
Regional jobless numbers inflated by new college grads
New numbers released by the Ohio Department of Job and Family Services says Ohio's unemployment rate rose in all 88 counties in June. That's in part because of new college graduates entering the job market.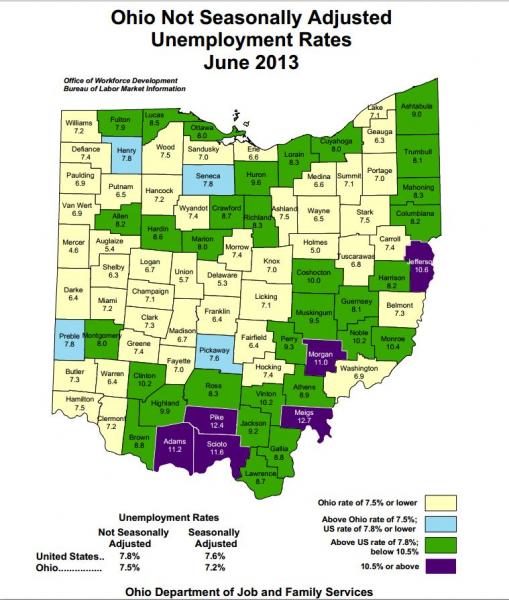 The lowest unemployment rate in the region was in the largely agrarian Holmes County, where the rate was 5 percent. Huron County was tops at 9.6 percent, and rates in Cuyahoga, Trumbull, Ashtabula, Mahoning, Columbiana and Lorain were all above the national unemployment rate of 7.8 percent. Summit, Stark, Portage, Tuscarawas, Wayne, Medina, Geauga and Lake counties were all at or below the state rate of 7.5 percent.

Ohio's largest school system cuts high-level administrators
The interim superintendent of Ohio's largest public school system plans to cut eight top management position. The Columbus Dispatch says that will save Columbus City Schools as much as $1.5 million. The interim superintendent, Daniel Good, also plans to review the roles different employees played in an attendance rigging scandal that state officials say artificially boosted the performance of Columbus schools on proficiency tests.