Loading...


Health and Medicine



Wednesday, July 24, 2013




With the school year approaching, some students may need vaccines




Nurses suggest getting appointments soon




by WKSU's STATEHOUSE CORRESPONDENT JO INGLES



Reporter
Jo Ingles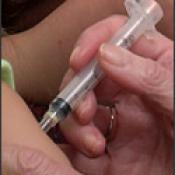 Kate King of the Ohio Association of School Nurses says scheduling immunization appointments soon can help families beat the school-year rush.
Courtesy of Center for Disease Control
Download (WKSU Only)
In The Region:
The end of July is upon us and the Ohio Association of School Nurses says parents should start thinking about immunizations. The organization's President, Kate King, says it's a good idea to check children's shot records and if they are not up to date, get the immunizations now.
"Most schools start mid-August," King says. "If children need their immunizations, pediatricians and health care providers get overwhelmed with appointments to get the immunizations that children need so now would be a great time because they are not as busy."
King says now is a good time to get required sports physicals. She says college students also need to look into what immunizations are required by their schools.
---
---
---
Stories with Recent Comments