Earlier this month, the Medina school board voted unanimously to put a five-year emergency levy on the November ballot.
The school board says its kids need the roughly $6.6 million the levy will raise – and can and will show the community why.
School board President Karla Robinson says the district is focusing on transparency.
"We are being extremely fiscally conservative with our funds and we will be demonstrating that with real numbers in the near future too. While there are still folks concerned about trusting us with these dollars, what the board is concerned about is demonstrating to the community, showing the community, here's what we're going to do with these dollars, and hold us to it.

Trying to overcome doubts and history

But Robinson acknowledges recent history may leave some in the community skeptical.
Some board members have resigned. But this is still the entity that approved an $83,000 signing bonus for Superintendent Randy Stepp, along with paying some $250,000 toward his college loans and degrees. The board says it didn't know how much it was paying. And at least one of the contracts was approved during a meeting the board itself now says violated Ohio's sunshine law.
After the expenses became public, the board suspended Stepp and called for a special audit. Stepp has sued the board members and they have countersued.
All of which is fodder for blogs, media coverage and talk around the town square. But none of it, says Robinson changes the fact that the district needs the levy.
"If you fail this levy, community, this is what the district is going to look like. It's going to change because our budgetary realities are pretty stark."
State cuts and other hurtles
The levy would be offset state budget cuts totaling $1.8 million per year. It would fund reading intervention specialists, gifted education, busing and high school and middle school electives such as music, art and gym.
At least one resident sees the merits of the argument. Ray Gordon is concerned about what cuts are doing to his children's education.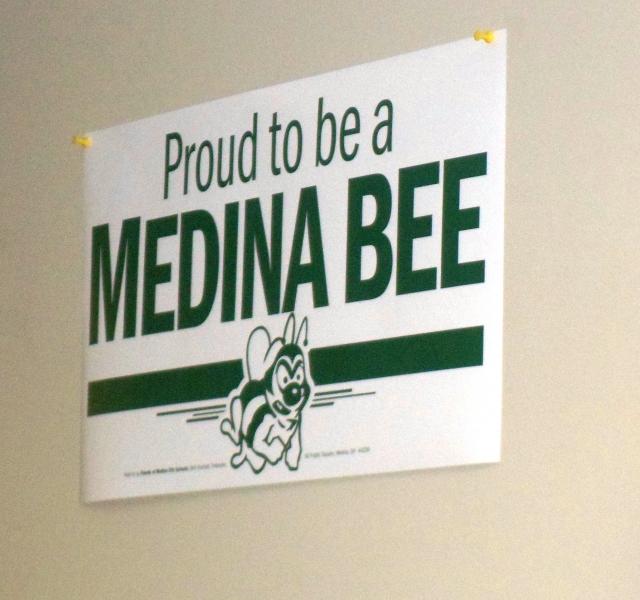 "The middle school students, of which I have two, no longer even have classes available to them to fill their whole day, so they have a number of study halls. I think the typical average is about three study halls a day. And they're actually turned loose, if you will, around 1:30, 2 o'clock in the afternoon. So where in the past they had a place to be and some direction that direction is no longer there for them.
Gordon says the current state of the district is nothing like what it was when he was a Medina Bee – something that school administrators acknowledge.
Two superintendents
School board President Robinson says over the last several years, the district has cut more than 100 teachers, 80 support staff, 10 administrators and numerous programs and services for students.
In addition, it's now paying for two superintendents. Stepp is on paid leave following his suspension, and Interim Superintendent Dave Knight is charging a discounted rate of $30-an-hour to take over for the time being.
Stepp's paid leave will continue until the district gets results from the state audit – results the community has been waiting on for months.
No time to wait

Knight who was the retired principal at one of Medina's elementary schools before the board asked him to fill in as superintendent. He acknowledges that the controversy makes it difficult to pass a levy. But he says the district can't afford to wait. And, he says, there's never an easy time to pass a levy.
If I had a little second grader anxious to meet his new teacher this fall, and we turned to him and said 'Oh, let's wait awhile. You can be patient. Wait until third grade. Wait until our community is ready because we have a distraction.' You know what? There will always be a distraction. We need to move that distraction to the side and say 'You are valuable to us, and we want to give you the help you need now.'"
Both Knight and Robinson say they are hoping community members can move past the disputes and focus on the children.
And parent Gordon says there isn't any place left to go but forward -- an attitude that he's seen displayed by other parents within the district.
"What I'm seeing is there's certainly some trepidation, but there's more optimism than I've ever seen in this community in my 35 years of living here."
School board members hope other voters share that optimism on Nov. 5, when they'll have decide what happens to the 5.9 mill levy.