Loading...


Government and Politics



Thursday, July 25, 2013




Ordinance could ban panhandling in Summit County's townships




Townships are seeing more panhandlers as cities clamp down on them




Story by

LYNDSEY SCHLEY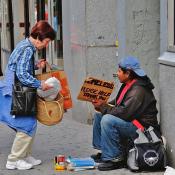 A proposed ordinance would nearly end panhandling in Summit County's townships, Summit County Council President Jerry Feeman says.
Courtesy of Ed Yourdon
Download (WKSU Only)
In The Region:
The Summit County Council is proposing an ordinance that would strictly limit panhandling. Council President Jerry Feeman says some townships are seeing more panhandlers after neighboring cities passed ordinances clamping down. Feeman says the new ordinance would require all panhandlers to be 25 feet from crosswalks and intersections, entrances and exits of businesses, schools and churches, and some other areas. That would greatly limit where they can work.
"Once you get 25 feet off the right-of-way, you're into private property," Feeman says. "So, in the townships, basically, they're forbidden unless they get an agreement with the private property owner that they can stand on their property and panhandle."
Feeman says an earlier proposal included registering panhandlers, but the townships were concerned that the process would be too complicated and time-consuming.
---
---
Stories with Recent Comments