The proposed transportation plan provides a $3 billion investment that is expected to create at least 60,000 new jobs.

One of the big projects is a $334 million investment to improve interstate access to a key part of Cleveland. There's also $440 million set aside for the Portsmouth bypass in Southeast Ohio, and a $107 million interchange in Southwest Ohio. Amd the plan also calls for millions of dollars to widen other roads, including I-75 in northwest Ohio, I-80 in eastern Ohio and the 70/71 project in central Ohio.

Keeping score
The director of the Ohio Department of Transportation, Jerry Wray, says the those projects scored at the top of a process that took into account many factors. But he says that does not mean projects that were rejected were necessarily bad.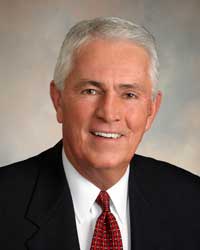 "There are tremendous needs all over the state and all of the projects that were requested and applied for have value," Wray says. "They have merit based on safety, congestions, opportunities for jobs and development and when you begin to score them, they have merit.
"However, the resources are finite. A lot of people think about money but there's also time in what it takes to develop a project. So even though we have a lot of money in the eyes of folks, ... it's still finite and our mission is enormous. ... There's just not enough money to meet all of those wants and needs."
Turnpike earns northern Ohio a lion's share
The northern part of Ohio got a lot of new projects under this plan and Wray says that is because of one thing: the $1.5 billion worth of bonds that will come from leasing the Ohio Turnpike.
"We've followed the same process we've always followed but the only thing is there is the opportunity for those projects that ... are within 75 miles of the turnpike," Wray says. "There's a better opportunity for them to get funding because there's money that's available to them."
What about trains and buses?
An advocate for public transportation in Ohio says he is disappointed in the plan, and not because of location.
Gene Krebs says the fact is the department's long tern funding still depends on the gasoline tax that drivers pay. The problem, he says, is this budget ignores an important trend.
"The Millenials, the Y generation coming through, drive about a quarter less than their parents did. And that's going to translate into two things: ... less traffic on the road but also it is going to translate into substantially less dollars for ODOT to spend because this is a state where the ODOT money comes from gasoline sold.
"So, as everyone trades in Hummers for Hondas, and the youth drive substantially less than their parents ever dreamed of doing, it's all going to have a negative impact."
Krebs says younger Ohioans favor public transportation. Yet this budget does not contain any major public transportation projects.

Ohioans can find the transportation plan on ODOT's website and make written comments until the 16th of August. After that , the commission will get together again and finalize the final transportation plan.