Joseph O'Sickey grew up in Cleveland during the Depression, studying at the Cleveland School of Art. He was friends with more well-known artists Roy Lichtenstein and Will Barnet and had shows in New York. But Canton Museum of Art curator Christine Fowler Shearer says O'Sickey did not chase after trends or after fame.
"I don't think he was interested in it. He wanted to be represented there (in New York, but) he was more about the enjoyment of having art as part of his life and passing that along to many of his students for the 25 years he taught at Kent State.
"I think he could have made it big if he would have chosen to do that but I don't think it was ever a driving factor in what he wanted to do with his life."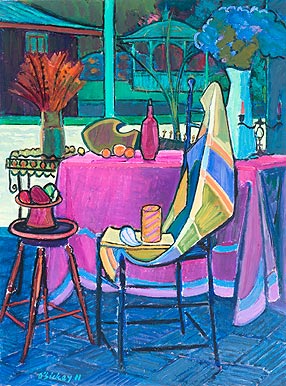 The most important part of O'Sickey's life was his favorite subject, his wife, Algesa, an artist who died in 2006. O'Sickey talked about his life in a Western Reserve Public Media documentary.
"I had a better life than Picasso or Matisse or any of those people in New York. I wasn't divorced umpteen times. I had a very simple life, a rich life and Algesa and I went everywhere."
Joseph O'Sickey was honored with the Governor's Award for the Arts in May. He died Monday at age 94.