Loading...


Economy and Business



Friday, July 26, 2013




Workers aren't concerned by Lordstown's extra shutdown in August




Union chief says the shutdown -- planned to address inventory -- may turn out not to be necessary




Story by

LYNDSEY SCHLEY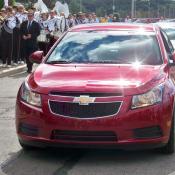 The Chevrolet Cruze is a critical product of the Lordstown GM plant.
Courtesy of Jeff St.Clair
Download (WKSU Only)
In The Region:
The Lordstown GM plant shut down for regular maintenance in July, but it is planning to shut down again in August to cut the supply of the Chevrolet Cruze. GM says this shutdown, slated for on Aug. 26, will "align the product with market demand". But Robert Morales, president of United Auto Workers Local 1714, says he is not concerned and the shutdown may not even be necessary.
"We just came off a solid month last month and we have a build schedule and we're still keeping up with our build schedule," Morales says. "Again, it may be slotted for a shutdown that week of August. It doesn't mean necessarily it's going to happen."
In June, GM sold nearly 33,000 Cruzes, an all-time record. Overall, the company has sold nearly 265,0000 of the compact cars this year and is beginning production of its diesel models.
---
---
Stories with Recent Comments