Loading...


Environment



Monday, July 29, 2013




Anti-fracking activists host Ohio rally, call for closure of disposal wells




State regulators say disposal method is safe despite fears of groundwater contamination


by WKSU's JEFF ST. CLAIR


Reporter / Host
Jeff St. Clair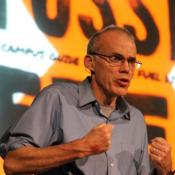 Environmentalist Bill McKibbon is the featured speaker today at an anti-fracking rally in Warren, Ohio. The event is sponsored by local groups and McKibbon's 350.org, a group dealing with the effects of climate change.
Courtesy of Steve Liptay
Download (WKSU Only)
In The Region:
Anti-fracking activists are meeting today in Warren to call for the end of Ohio's method of disposing of fracking waste. The rally is organized by local and national environmental groups concerned about the long-term safety of deep injection wells across the state. More than 600 million gallons of contaminated water from hydraulic fracturing were pumped underground last year, 60 percent of that came from out of state. Mary Greer from Concern Citizens Ohio is calling for the closing of the state's more than 200 disposal wells.
"As soon as one well leaks, or the fluids from one well migrate into our aquifer, it's game over for that aquifer," Greer says. "And aquifers are our underground water source."
State officials say new rules governing injection wells guard against spills. The Ohio Department of Natural Resources says there hasn't been a documented leak into ground water in the 30 years the agency has been permitting wells.
---
---
---
Stories with Recent Comments