Loading...



From WKYC.COM / TV 3
Get the latest school closings and delays


Funding for WKSU is made possible in part through support from the following businesses and organizations.
---
For more information on how your company or organization can support WKSU, download the WKSU Media Kit.

(WKSU Media Kit


)
---

Economy and Business



Monday, July 29, 2013




House sales agreements are up for the 26th month in a row




House values and new construction are also improving




Story by

LYNDSEY SCHLEY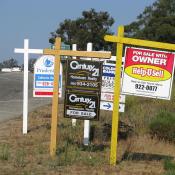 House sales agreements and prices were up in Ohio for the 26th consecutive month.
Courtesy of The Truth About Mortgage
Download (WKSU Only)
In The Region:
The Ohio Association of Realtors is reporting agreements to buy condominiums and single-family houses were up in June for the 26th consecutive month. Thomas Williams, the president of the group, says not only are sales up, but values are rising and so is new construction...
"Which is an extremely positive sign because new construction creates a lot of jobs for tradespeople and people furnishing their home and buying furniture, draperies and appliances," Williams says.
Williams says he believes the improvements come from a more stable economy and the oil-and-gas boom in Ohio.
Page Options

Print this page

E-Mail this page / Send mp3

Share on Facebook
---
---
Stories with Recent Comments