Rails
Three mid-streamers — companies supporting energy explorers — are making plans for loading-and-storage services for the oil and gas business at old railroad sites in eastern Ohio.
Salt Lake City supply chain specialist Savage Services will operate from Ohio Commerce Center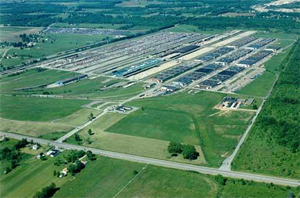 …the old rail yard near Lordstown.
Last week Houston-based Halcon Resources committed to a $70 milliion investment also at Ohio Commerce Center.
Now Crosstex Energy of Dallas has bought Black Run rail terminal between Coshocton and Zanesville in a deal that includes 200 miles of gas and oil collection lines and a river port facility at Marietta.
Black Run
Paul Weissgarber of Crosstex says Black Run was built as an oil shipping facility, albeit a hundred years ago in Ohio's first energy boom. So, though modifications are needed, the structure is there, as are the people.

"A good thing for us was being able to start with 180 local workers. We're actively hiring more people now…and we'd hire even more if we could find them faster."
Crosstex plans to double the rail terminal's twenty eight thousand barrels per day capacity,