Loading...


Government and Politics



Monday, July 29, 2013




Immigrants who grew up in Ohio want in-state tuition




Immigrants say with no grants or aid, paying out-of-state tuition is nearly impossible




by WKSU's STATEHOUSE CORRESPONDENT JO INGLES



Reporter
Jo Ingles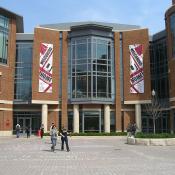 Attending college regularly like these students is difficult for immigrants because they cannot receive in-state tuition.
Courtesy of Robert Chriss
Download (WKSU Only)
In The Region:
Some students who have lived in Ohio most of their lives but are not U.S. Citizens can receive a special status that allows them to go to college. But even with that designation, many of those students cannot afford college because they are not allowed to pay in-state tuition. Maria Sanchez finds herself in this situation.
"It's really expensive," Sanchez says. "It's three times more than what any citizen would pay and I don't qualify for any financial aid or any financial support so that's why it's really hard to get into school right now. I've been taking online classes but I'm taking one class at a time and that's the only thing I can actually afford to pay."
Sanchez is one of a thousand people who have signed petitions asking the head of the Ohio Board of Regents to allow students enrolled in the Deferred Action for Childhood Arrivals program to pay the in-state tuition at state universities.
---
---
---
Stories with Recent Comments