Ownership
The state of Ohio owns forty-five hundred-acre Blue Rock State Forrest near
Zanesville... above ground. But, in a hold-over from a "New Deal" rural land buy-up program during the Great Depression,
the federal government owns most of what lies underneath.

Federal
In the mid 1930s large swaths of eastern Ohio were deemed "poor land for farming" by the newly formed Resettlement Administration. The RA bought the farms, moved the families to government sponsored areas elswhere, and turned the land over for logging. Decades later, it was titled back to the State of Ohio; but only the surface property, not the mineral rights. Now, the feds want to generate revenue from those by selling oil and gas leases. An auction is planned for December.
Environmental concerns
Nathan Johnson of the Buckeye Forrest Council, which opposes drilling on state lands, says the public wasn't properly informed. "There were no letters, there was no advertisement, just a small item buried on the BLM website." Johnson said he only discovered it a week ago--and then more or less by accident.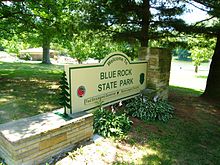 The posting was made in March and the public comment period it gave notice of expired in May.
ODNR
Bethany McKorkle of the Ohio Department of Natural Resources said in a written statement that the agency also was not notified of the comment period. But in its own statement, the Bureau of Land Management
insists it followed the rules.

More Public Comment
Nathan Johnson says he still hopes federal officials will recognize the need for public dialog and provide more time for comment.