Loading...


Economy and Business



Wednesday, July 31, 2013




KeyCorp sells investment arm




Bank divests Victory Capital Management in bid to repurchase stocks and refocus on core banking services


by WKSU's JEFF ST. CLAIR


Reporter / Host
Jeff St. Clair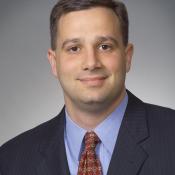 Dave Brown, CEO of Victory Capital Management, says KeyCorp is divesting Victory to focus more on it's core banking services. Brown says the divestment is part of a trend of investment managers moving away from banks toward employee ownership.
Courtesy of VCM
Download (WKSU Only)
In The Region:
Cleveland's largest investment firm is under new ownership. The sale of Victory Capital Management becomes final today as employees and a New York-based private equity firm take control of the former KeyCorp subsidary. Victory CEO Dave Brown says the move is part of a growing trend among investment managers moving to employee ownership from large banks.
"We are going to miss having Key as our parent organization but I think the positives of being an independent company and having our interests align with our clients outweighs anything we had staying under the KeyBank organization."

Victory manages about $21 billion in assets for mostly institutional investors. KeyCorp is planning to use the $246 million sale of Victory to repurchase shares of its common stock.
---
---
---
Stories with Recent Comments