Loading...


Economy and Business



Wednesday, July 31, 2013




Plain Dealer union layoffs still could spawn a lawsuit




Union chairman says dispute continues over how layoffs are calculated,but this is the end for him


by WKSU's M.L. SCHULTZE


Web Editor
M.L. Schultze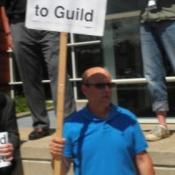 Plain Dealer reporter and newsroom union official Harlan Spector led the protest outside the paper's headquarters Tuesday; another is planned tonight.
Courtesy of Kevin Niedermier
Download (WKSU Only)
In The Region:
About 50 newsroom employees of the Plain Dealer got layoff notices today. WKSU's M.L. Schultze reports that The Newspaper Guild will be marking that with a march outside the paper's downtown Cleveland headquarters at 6 tonight.
Nearly eight months ago, the Plain Dealer and the Guild signed a contract that acknowledged layoffs would be coming. The agreement was to ensure 110 union employees remained in the newsroom, while management got more latitude in staffing its online edition.

An argument broke out this week on how those layoff numbers are calculated – before or after some employees were offered transfer to Cleveland.com.

Guild Chairman Harlen Spector says that dispute could lead to a lawsuit.

And regardless a lot of people are dealing with the pain of layoffs.

"It's really a sad day certainly for the people who are let go, but sad day for the people who remain, and for the journalists that came before us and for the community. This is a real turning point in Cleveland journalism. These cuts really represent the end of the newspaper as we know it."

Spector is one of about 20 of those laid off who volunteered to be cut. He's been with the Plain Dealer for 23 years and says, "journalism is in my DNA."
---
---
---
Stories with Recent Comments