Loading...



From WKYC.COM / TV 3
Get the latest school closings and delays


Funding for WKSU is made possible in part through support from the following businesses and organizations.
---
For more information on how your company or organization can support WKSU, download the WKSU Media Kit.

(WKSU Media Kit


)
---

Courts and Crime



Thursday, August 1, 2013




Ariel Castro sentenced to life in prison plus 1000 years




Testimony today creates record of capture of three Cleveland women and their decade-long imprisonment


by WKSU's JEFF ST. CLAIR


and

KEVIN NIEDERMIER AND KABIR BHATIA



Reporter / Host
Jeff St. Clair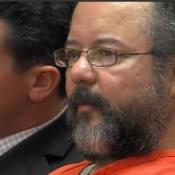 Ariel Castro listens to witnesses describe victim interviews and evidence in his decade long imprisonment of three Cleveland women.
Courtesy of WKYC
Download (WKSU Only)
In The Region:
As expected, Ariel Castro has been sentenced to life in prison with no chance of parole plus 1,000 years. Michelle Knight, one of the three women he captured, imprisoned and brutalized told him she will overcome what he did to her.
"I spent 11 years in hell. ... Now, your hell is just beginning."



Ariel Castro's sentencing is underway in his decade-long imprisonment and assaults of Gina DeJesus, Amanda Berry and Michelle Knight.

Castro's attorney says his client accepts full responsibility, despite abuse he suffered as a child. During testimony, he occasionally rocked in his chair or chatted with his attorney.

He sat expressionless as Michelle Knight told him, "you will die a little every day" from now on. She recounted missing her son while in captivity. Detectives say Castro lured Knight into the home with promises of a puppy for her son.The women were frail and pale when rescued by Cleveland Police Patrolwoman Barbara Johnson. She was one of the first responders to arrive at 2207 Seymour Avenue the night of May 6. Johnson says the women were talkative during the rescue.

Det. Andy Harasimchuk of the CPD Sex Crimes Unit describes the method by which each woman was captured and restrained by Castro. Each willingly went with Castro and entered his house where he attacked and restrained them with chains.

The defense later briefly debated with Harasimchuk whether there is confirmation that Michelle Knight was ever pregnant. Harasimchuk was visibly shaken while recounting his interviews with the ladies.

Joshua Barr with Bureau of Ciminal Investigations says he found a .357 Magnum at the home and more than 90 feet of chains used to restrain the women.

Cuyahoga County deputy sheriff Dave Jacobs tells the court Ariel Castro answered all his questions and described how he captured the women, admitting to being a sexual predator. Castro told Jacobs he abducted the girls to satisfy his sexual needs.

During a recess, Cuyahoga County Prosecutor Tim McGinty says Castro teared up when asked to sign the deed for his house for demolition, adding "I don't understand why you have to tear my house down? I have so many happy memories there with Gina, Amanda and Michelle."

McGinty told reporters, "That's the real Ariel Castro."

Castro agreed to a plea deal last week to spend life in prison without parole, plus 1000 years. Prosecutors today encouraged Judge Michael Russo to give Castro more than 1000 years in light of the victim impact statements. Defense attorney Weintraub called the statements "inappropriate," adding that they should have been private. Judge Russo said, when making his decision, he will discard any statements meant to emotionally sway him.

During his statement to the court, Ariel Castro said he isn't a violent person, adding that he only abused his ex-wife because he "couldn't get her to quiet down" in front of their children.

Castro told the court he never beat Gina DeJesus, Michelle Knight and Amanda Berry, and that the sex was consensual, adding that the ladies often asked him for sex. He also angrily told prosecutors he is not a monster, just a normal person who is sick. He teared up when saying he is asking himself for answers as to why he held the ladies captive for a decade in light of "having everything going on" in his life (referring to his musical talent and job as a bus driver). Michelle Knight looked listless and slightly annoyed during Castro's statement to the court, and Judge Russo thanked her for her restraint.

During sentencing, Castro argued with Judge Russo over whether or not Michelle Knight was ever actually pregnant. And he briefly protested that he was characterized as leaving a child on his Cleveland Schools bus, explaining that he found the child while searching at the end of a shift. Castro was eventually disciplined for the incident.

Follow WKSU's LIVE coverage on Twitter


---
---