Loading...


Courts and Crime



Thursday, August 1, 2013




Castro says his house was harmonious, lawyer says it's part of his sickness




Ariel Castro's statement during sentencing says he apologizes, but denies he abused the women; talks of the 'harmony' of his home


by WKSU's KABIR BHATIA


Reporter
Kabir Bhatia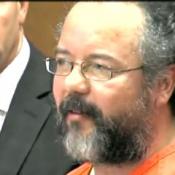 Says he never tortured three women he abducted, that he just never allowed them to leave.
Download (WKSU Only)
In The Region:
Throughout a 16-minute statement Ariel Castro delivered during his sentencing hearing today, he insisted "I am not a monster." He affirmed his guilty plea to 933 counts of kidnapping, rape, murder and abuse. But then he told Cuyahoga County Common Pleas Judge Michael Russo the rapes of the three women he abducted and imprisoned in his west-side Cleveland home for a decade were actually consensual sex. He repeatedly said, "There was a lot of harmony in that house." He claimed he is a good father to the 6-year-old daughter conceived by one of those rapes and that the fact that the three women are recovering is proof he never tortured them. His own lawyer, Craig Weintrab, says his statements are evidence of how delusional the 53-year-old Castro is.
"I think that based on what we have observed in this case that he certainly fits the definition of a sociopath and the judge also indicated he has a narcissistic personality which seems to as well be appropriate. They lack that ability to have empathy, so there is no understanding of what someone else may be going through."
Castro was confronted in court by Michelle Knight, the first of the women he abducted. She told him she is emerging from her own hell, while he is just descending into his.
Russo sentenced Castro to life in prison plus 1,000 years, with no chance of parole.
---
---
---
Stories with Recent Comments