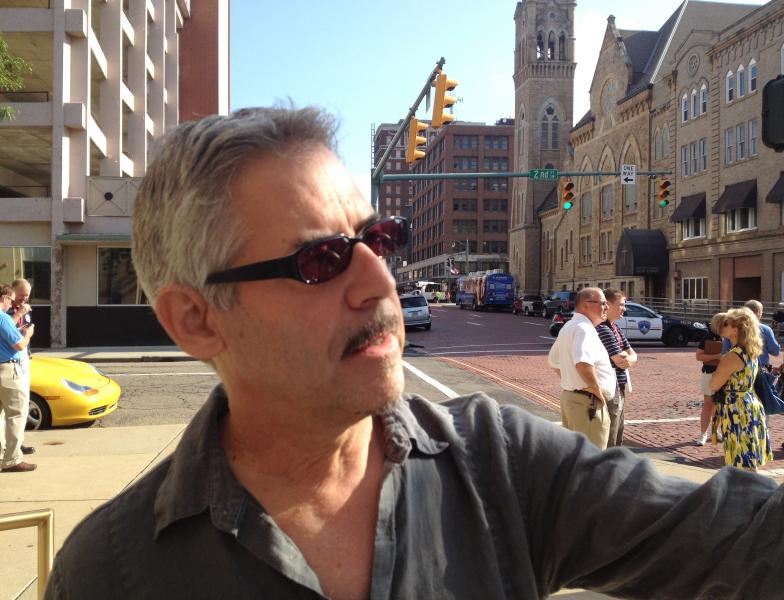 Michael Clapper is standing on the steps of what was the federal building in downtown Canton, and before that, the site of Ralph Hay's Hupmobile dealership, aka, the birthplace of the NFL. He's not alone. Hundreds of band members are practicing, and about 15-hundred more school kids are getting ready for the annual First Play, tossing an official NFL football along a line that stretches three miles.
With all that going on, the small model Clapper has set on the steps is hardly noticed. The full-size version he hopes to have in place by October is bound to stand out quite a bit more.
After all, it will stand "about 23 feet tall. It will be a spheroid... in the form of four stainless steel struts. It'll be transparent, you'll be able to see through it. Held within that spheroid will be a letter composition made up, obviously of an N and F and an L. and that will be made out of stainless steel and dichroic glass and it will be lit from within each end or tip of the spheroid.
What's an Akron native know about Canton? The Hall of Fame
Clapper is a Denver artist – transplanted from west Akron. He was chosen to build the first of a $2.2 million public art project in Canton called "The Eleven." All are themed on major events of the NFL. Moments like the Ice Bowl -- and eras like the reintegration of pro football.
The Pro Football Hall of Fame lists these as the 11 greatest moments in professional football history.
Formation/ "Birth" of the NFL (1920)
1958 Championship Game
Formation American Football League (1959)
Pete Rozelle Named Commissioner (1960)
Red Grange Turns Pro (1925)
The NFL Draft (1936)
Reintegration of Pro Football (1946)
Monday Night Football (1970)
Super Bowl III (1968)
The Ice Bowl (1967)
AFL/NFL Merger (1966)
The project is a partnership between the Hall of Fame and Arts in Stark. The arts council's CEO Rob Hankins says the first step was crucial if the other 10 were to happen.
"As I said to Michael and we said the whole committee: It's like every other project in the world. You've got to start strong. So a lot is riding on Mr. Michael Clapper's design.
Laughs Clapper: "Nah, no pressure. I'm used to it, no problem."
Abstract meets Canton
Though Clapper is an abstract artist, the design of "The Birth" is pretty clearly – even literally – about the birth of the NFL.
"The letter composition is still being worked out honestly."
It's pretty close to what Clapper displayed in March when he and three other artists – picked from 80 who originally applied -- presented their ideas to the committee. The wires spiraling up through the football shape are gone, and a 9-foot steel beam pedestal has been added.
The changes sprang from committee suggestions. Some worried that having it too close to the ground could invite climbers and could block the view.
Clapper says he's good with the changes. Public art needs to include the public.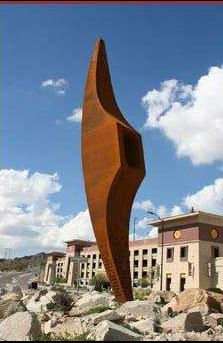 "I work in abstract form. But there are some bits of realism in my work. Because when you do public art you have to convey to the public or populace that supported that work to begin with. So what you need to do is in an abstract or stylized way create something that makes sense to the essence of the site."
Site plans have been submitted to the Canton city engineer. Some of the materials and site preparation have been donated.
Art and football
Hankins says the committee is aiming to have four of "The Eleven" in place in three years, eight of them in six years. And both he and Clapper expect it will be a varied collection.
"This is Canton, Ohio, this is football territory. You've sort of got to start out that people can grab ahold of. But three or four pieces down the pike, there are going to be pieces people are going to say, 'What the heck is that?"
For now, Hankins says, he content knowing…
There's no other place in America but Canton, Ohio where football and public art are being passionately discussed at the same time."
Meanwhile, crowds at Saturday's Hall of Fame parade – which goes by the old Hupmobile site and through the burgeoning arts district – will be treated to a little bit of both.


The weekend's Hall of Fame schedule:


Golden Anniversary Reunion Photo Op
Friday, August 2, 11:00 a.m. - 11:30 a.m., Front steps of the Hall of Fame

A record number of Hall of Fame legends coming to Canton as part of our Golden Anniversary Reunion will pose together on our front steps. This is the largest ever gathering of one group of Hall of Famers from one sport in one place! The public is invited, free of charge, to witness this historic moment. And, be sure to bring your cameras!
FASHION SHOW LUNCHEON
Friday, August 2, 11:30 a.m., Memorial Civic Center and Cultural Center

Guests enjoy a delectable lunch, followed by a show featuring fashions running the gamut from casual to dressy and everything in between. Aproximately 150 of the season's hottest fashions are provided by regional stores, showcased by male and female models. More information>>>

ENSHRINEES' GOLD JACKET DINNER
Friday, August 2, 5:15 p.m., Memorial Civic Center and Cultural Center

The spotlight will be shining brightly on the 2013 Class of Enshrinees during the prestigious Enshrinees' Gold Jacket Dinner on Friday night, August 2, 2013, when the class will receive their Hall of Fame gold jacket. The evening will begin with a cocktail party and dinner prior to offering warm congratulations to the 2013 Class, along with nearly 80 returning Hall of Famers who are expected to be in Canton to celebrate and to welcome the newest members into their exclusive fraternity. The evening's festivities will be emceed by a sports broadcaster of national acclaim. Purchase tickets>>>

FRIDAY NIGHT RECEPTION
Friday, August 2, 6:00 p.m., Pro Football Hall of Fame

Enjoy an exclusive event on the grounds of the Hall of Fame prior to the Gold Jacket Ceremony. Reception includes dinner, beer and wine. Then guests will have exclusive afterhours access to the Pro Football Hall of Fame with a self-guided tour of the museum during a special televised broadcast of the Enshrinees Gold Jacket Presentation. Purchase Tickets>>>

GRAND PARADE
Saturday, August 3, 8:00 a.m., Downtown Canton

Nearly 200,000 spectators will line the 2.2 mile route to congratulate the Class of 2013 Enshrinees, who will be joined by a large contingent of returning Hall of Famers. Watch as giant helium balloons, marching bands, specialty units, and fabulous floats entertain the crowd in the heart of downtown Canton. This is a classic event that has been attended by generations of football fans and locals alike! More information>>>

RETURNING HALL OF FAMERS AUTOGRAPH SESSIONS
Saturday, August 3, Time: noon - 3:30 p.m., Pro Football Hall of Fame Plaza Tent

Preserve your football memories with autographs from returning Hall of Fame legends as they return to Canton for the Enshrinement festivities. Participating Enshrinees will be signing in hour-long sessions. Prices vary per Hall of Famer. More information>>>

MM SHOWS LLC., AUTOGRAPH SESSION PRESENTED BY PANINI
Saturday, August 3, Time: noon - 2:00 p.m., Pro Football Hall of Fame Plaza Tent
Preserve your football memories with autographs from returning Hall of Fame legends as they return to Canton for the Enshrinement festivities. Your favorite Hall of Famers will be on hand to sign football memorabilia during two 1-hour sessions. Purchase tickets>>>

ENSHRINEMENT CELEBRATION FAN PARTY
Saturday, August 3, 4:00 p.m.-6:00 p.m., Pro Football Hall of Fame

If you think tailgating along with a Hall of Famer, great music, great food, drinks and beer sounds like your kind of party, then look no further. This exclusive tailgate party on Hall of Fame grounds provides entertainment before the Class of 2013 Enshrinement Ceremony. Purchase Tickets>>>

CLASS OF 2013 ENSHRINEMENT CEREMONY
Saturday, August 3, 7:00 p.m., Pro Football Hall of Fame Field at Fawcett Stadium

The focus of the entire celebration is the emotional Enshrinement Ceremony where the newest Hall of Fame members, the Class of 2013, take their rightful place among pro football's elite. In celebration of the Pro Football Hall of Fame's 50th Anniversary, a contingent of nearly 130 returning Hall of Fame legends will participate in a special salute to the newest members of their exclusive fraternity. Purchase tickets>>>

RETURNING HALL OF FAMERS AUTOGRAPH SESSIONS
Sunday, August 4, Time: 1:15 - 4:45 p.m., Pro Football Hall of Fame Plaza Tent

Preserve your football memories with autographs from returning Hall of Fame legends as they return to Canton for the Enshrinement festivities. Participating Enshrinees will be signing in hour-long sessions. Prices vary per Hall of Famer. More information>>>

ENSHRINEES GAMEDAY ROUNDTABLE
Sunday, August 4, 12:30 p.m., Memorial Civic Center and Cultural Center

The roundtable discussion is an unscripted, up-close-and-personal format where the Enshrinees share stories and memories of their careers. While never knowing for sure exactly what to expect, we can assure you that it will always provide emotion, insight, and humor. More information>>>

CLASS OF 2013 AUTOGRAPH SESSION PRESENTED BY PANINI
Sunday, August 4, Time: 3:00 p.m. - 4:30 p.m., Pro Football Hall of Fame Event Center

Seize an extraordinary opportunity to secure autographs and meet the members of the Class of 2013 up close and personal. Class of 2013 includes: Larry Allen, Cris Carter, Curley Culp, Jonathan Ogden, Bill Parcells, Dave Robinson & Warren Sapp. Details>>>

FAN APPRECIATION TAILGATE PARTY
Sunday, August 4, 5:00 p.m.-7:30 p.m., Pro Football Hall of Fame

Kick off the NFL preseason in style at this exclusive fan tailgate party at the Pro Football Hall of Fame. Enjoy traditional tailgate style food, Pepsi products and beer. Party with 2,000 of the best football fans around with awesome music and the chance to shake hands with a Hall of Famer. Purchase tickets>>>

NFL/HALL OF FAME GAME
Sunday, August 4, 8:00 p.m., Pro Football Hall of Fame Field at Fawcett Stadium

Kick off the 2013 NFL preseason at the annual NFL/Hall of Fame Game in Canton featuring the Miami Dolphins vs. Dallas Cowboys. The game takes place next to the museum on Hall of Fame Field in historic Fawcett Stadium. Ticket information>>>

DRUM CORPS INTERNATIONAL COMPETITION
Tuesday, August 6, 6:30 p.m., Paul Brown Tiger Stadium (Massillon)

The 2013 Drum Corps International Competition promises to be an exciting show featuring eight of the best drum corps in America, including five of the top twelve. The corps will be at their peak performance levels just days before the world championships. Precision formations of high-stepping marchers and vibrantly colored costumes are sure to thrill music fans of all ages. More information>>>