Loading...


Government and Politics



Friday, August 2, 2013




Democrats push for more transparency from JobsOhio




Rep. John Carney (D-Columbus) says the way the agency operates is 'absurd'




by WKSU's STATEHOUSE CORRESPONDENT JO INGLES



Reporter
Jo Ingles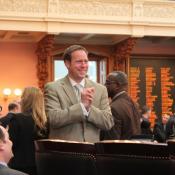 Rep. John Carney while the House was in session. He and other Democrats have been cautioning about JobsOhio transparency.
Courtesy of Ohio General Assembly
Download (WKSU Only)
In The Region:
Some Democratic state lawmakers are proposing a bill that would make JobsOhio's activities more transparent. Rep. John Carney says he's concerned about reports that of potential conflicts of interest in the state's not-for-profit job creation agency. The Columbus representative says the money in JobsOhio belongs to taxpayers and they deserve to know how it is being spent.
"This idea that somehow we took a stream of liquor profits and turned them into private money, and now private actors get to decide what to do with it and can hand it out to whoever they want ... seems totally absurd to me. And frankly, I've gone out and talked to a lot of Ohioans and it seems totally absurd to them."

Carney says he knows his legislation won't have a chance in the Republican-dominated Legislature, but he hopes Ohioans will start asking questions about it. Lawmakers recently passed a bill that prevents Republican state Auditor Dave Yost from auditing JobsOhio. Gov. Kasich and backers of JobsOhio say much of the information critics want needs to be confidential so that the state doesn't give away trade secrets when competing for jobs.
---
---
---
Stories with Recent Comments