For now, you have to walk on a muddy road past a couple of rusty gas wells to see what will become the newest Summit County Metro Park. That access road has to stay because the park system does not own the gas wells. But eventually there will be a proper entrance and a parking lot.

You might not think of a Western Reserve colonial town like Hudson as the location for such a wooded park, but most of the 177 acres were donated by someone anonymously four years ago. Metro Parks landscape architect Lisa King says then the parks system purchased some additional property to make it work.
"We like to take it near some aspects of the site that are interesting to see like wetlands. This trail will be half in the woods and then half in the field so the new part of the development will have a grass mown trail that will take you through the woods and up near the parking lot so you have two experiences."
The former farm field will be restored to a more natural state by adding seedlings and weeding out invasive species.
University of Akron field experience
Some of the first people in the fields are students from an archaeology class at the University of Akron. Linda Whitman's field test class will spend three weeks digging down through layers of the former farm field to perform an archaeological survey. She says it's an ideal site for a prehistoric Indian habitat.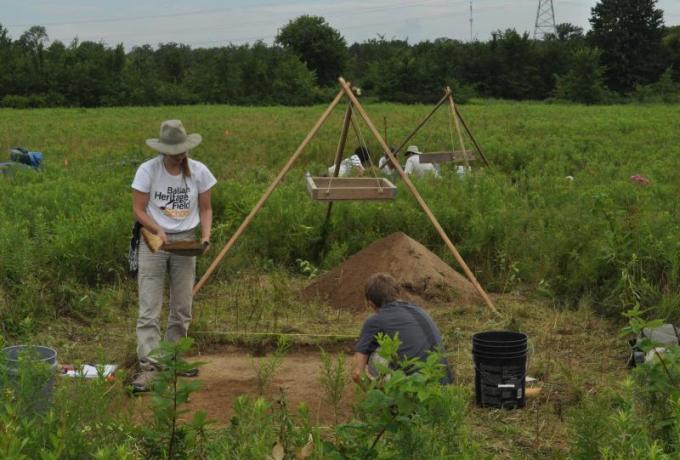 "It's an upland wetland. You have all the aquatic resources, whether it's food or material for making clothes or building huts or whatever."
Student Eric Olsen and Emily Holbrook take dirt from a 2-by-2-meter square hole square and sift it in a large wooden shaker.
They're looking for stone tools or shatter – the pieces that were left over from making stone tools. Whitman says they start looking just below the plow layer.
"We're looking for hearths; we're looking at fire pits; we're looking for post moles, which is literally a round circle in the soil that is darker. That indicates there was some sort of post there so it could have been a house. It could have been a wind break. It could have been a number of different things."
By this time year, the site will be a parking lot.

Wood Hollow Park is named after the hollowed out beech and sugar maple trees on site. It opens to the public next year.