Loading...


Sports



Sunday, August 4, 2013




Hall of Famers ask the NFL to look into concussions and other injuries




The league says safety is a top priority and announces more advisory committees


by WKSU's KABIR BHATIA


Reporter
Kabir Bhatia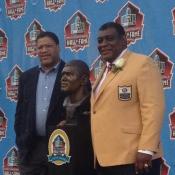 Dave Robinson (right) is one of 18 Hall of Famers asking the NFL to look into health problems stemming from on-field concussions.
Courtesy of Kabir Bhatia
Download (WKSU Only)
In The Region:
Evidence is mounting that brain injuries in football players go beyond concussions to health risks later in life. Now, some NFL Hall of Famers are asking the league to do more to monitor and care for ex-players, while others feel hard hits go with the territory.
The Pro Football Hall of Fame's 50th anniversary peaked this weekend with the enshrinement ceremony drawing gridiron legends from the past to Canton.

Earlier in the week, eighteen Hall of Famers sent a letter to the NFL, asking for better care for ex-players who say they suffer from dementia, Alzheimer's and other neurological impairments due to on-the-field concussions.

One of them is Dave Robinson, the Green Bay linebacker who played on the victorious Packers of Superbowls I and II. The longtime Akron resident alluded to the game's physical risks in his enshrinement speech.

"Football is a game of hitting and getting hit. And I tell people, you have to like the taste of blood. Because 50 percent of the time, it's your [own] blood."

On the field and in court
All that blood and all those hits have led more than 4,000 former players to sue the league, asking for better long-term care and medical monitoring, as well as more awareness of the continued effects of concussions.

But Hall of Famer Billy Shaw, offensive guard for the Bills in the 1960s, is not sure the awareness needs a boost.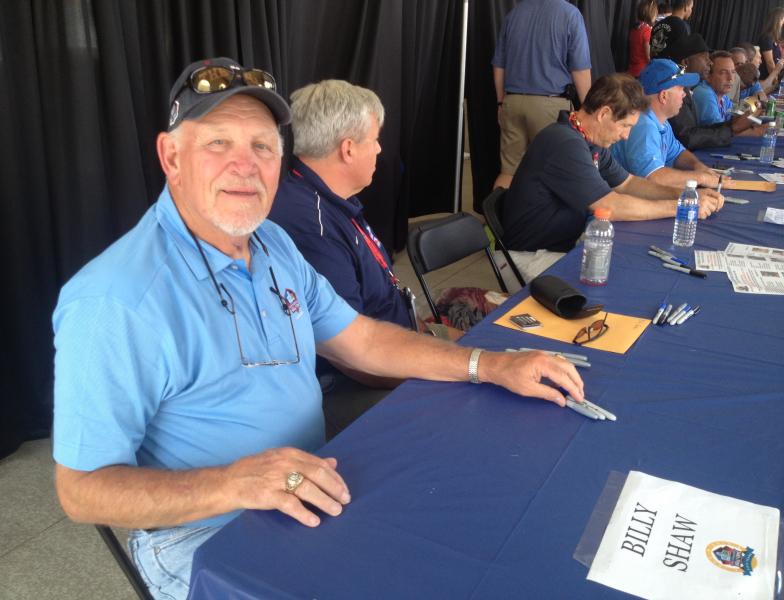 "I have had the opportunity to join the concussion lawsuit, because as [with] everybody else who plays the game, you're going to have one or two," says Shaw. "My thoughts are that I knew that I knew what I was getting into when I started. So I probably won't take a part in the lawsuit.

"I don't know what Dave's charge is, but it can certainly vary from a lot of discipline issues, so I just wish him luck."

Risk management
On the other hand, 49ers quarterback Steve Young, inducted in 2005, says doctors' understanding of concussions has increased in recent years, but the long-term effects need a closer look.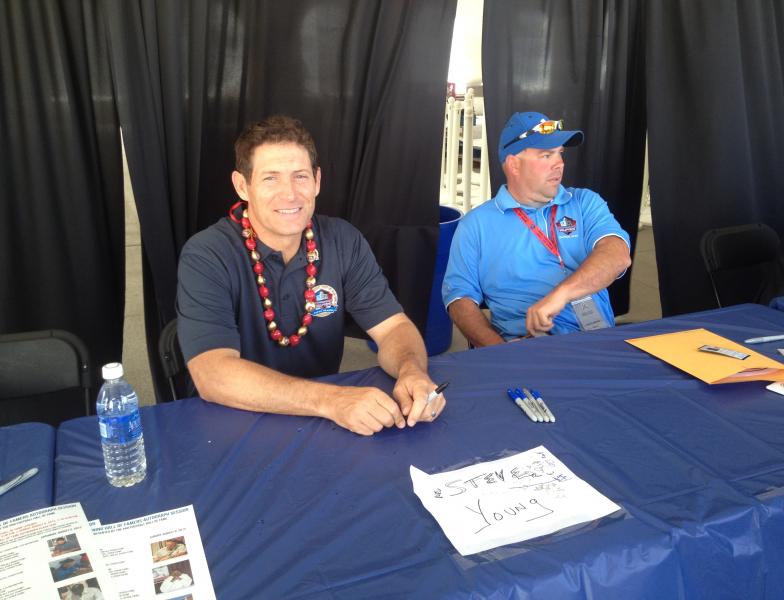 "I think players can take that assumption of the risk. But there's this other thing, this nefarious thing that we're finding out about that just playing the game, bouncing your head around without having an actual concussion, is a problem.

"And I think that's what everyone wants to get to the bottom of. Every job in the world – there's dangerous jobs – people choose to do them. But people have a sense of what they're really facing. Concussions themselves, I think people have an idea. But this other thing, it's the black hole right now."

League safety
The NFL says player safety has always been a top priority. A spokesman told AP last week that every locker room has an informational poster noting that repetitive brain injury, when not managed promptly or properly, can cause permanent brain damage.

And on Friday, the league announced new committees, in addition to several already in existence, to advise the league on its health and safety efforts. Chiefs' linebacker Willie Lanier has been on the Player Safety Advisory Panel for two years, and says the NFL is discussing how to make sure players are aware of head injury risks, now and in the future.

"I would start with the fact that the mothers of America can be comfortable that their children are playing a sport that is safe for them," Lanier says. "People 15 or 20 years from now (who are) coming to this shrine will be able to acknowledge those who played without having sympathy for things that might have happened to them in the process. So you create a win-win for everybody who participates and who watches."

The judge in the concussion lawsuit has ordered both sides to mediation to determine whether the complaints will be litigated in court or be settled by arbitration. A progress report is expected by Sept. 3 –- two days before the start of the regular season.
---
---
---
Stories with Recent Comments