Loading...


Sports



Monday, August 5, 2013




Jimmy Haslam told the NFL his father will take over the Browns if he steps down




But sports commentator Terry Pluto says any family member could take the team




Story by

LYNDSEY SCHLEY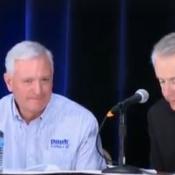 If Browns owner Jimmy Haslam has to give up the team, it will probably go to a family member, WKSU commentator Terry Pluto says.
Courtesy of Kevin Niedermier
Download (WKSU Only)
In The Region:
Browns owner Jimmy Haslam has assured the NFL that if he has to give up the team due to the Pilot Flying J scandal, his father, Jim Haslam II, would take over. That's according to Sports Business Journal. But WKSU commentator Terry Pluto says that any Haslam family member would be a good guess. Pluto says Jimmy Haslam voiced his intention to keep the team in the family last week. And Pluto says his brother, Tennessee Gov. Bill Haslam, is also a good bet for the new owner.
"They've wanted to own an NFL team for a long time, and even with Jimmy facing all these significant legal problems, the family wants to keep the team because virtually every NFL team is a money-maker," Pluto says. "It's not a money-loser. So, you can lose a ton of games in the NFL and still make money.""
Pluto notes this would not be the first time an owner has passed a team to family members when he had to step down. Youngstown-native Edward DeBartolo Jr.gave control of the San Francisco 49ers to his sister after he pleaded guilty to federal felony charges in 2000.
---
---
Stories with Recent Comments