Loading...


People



Tuesday, August 6, 2013




National Right to Life severs ties with Cleveland chapter over gay marriage




Move comes after Cleveland branch formalized its opposition to gay marriage, which is supported by Sen. Rob Portman


by WKSU's KABIR BHATIA


Reporter
Kabir Bhatia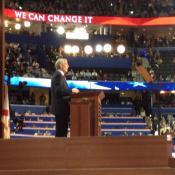 Ohio's Sen. Rob Portman, speaking at last year's Republican National Convention, has had strong anti-abortion support. But the Lake County and Cleveland chapters of Right to Life say his change on gay marriage was a deal breaker; and the national organization has severed ties with the latter
Courtesy of M.L. Schultze
Download (WKSU Only)
In The Region:
Two pro-life groups are sparring over support for U.S. Sen. Rob Portman. The Republican's support of gay marriage is not sitting well with Cleveland Right to Life. And that stance is not sitting well with National Right to Life. WKSU's Kabir Bhatia reports.
Last month, Cleveland Right to Life – one of the largest in the state – formalized its opposition to gay marriage. That prompted National Right to Life to sever ties with the local branch. But Cleveland President Molly Smith says there never was a formal link between the two.

"Actually, we do not need the support of National Right to Life in any shape, way or form. However, National Right to Life receives its credibility from the local and state organizations. So to have done this to one of the largest local groups in Ohio is detrimental to National Right to Life, not to Cleveland Right to Life."

A convoluted path
Smith found out the national organization is not happy after getting a copy of the separation letter from Portman's office. He came out in favor of gay marriage last spring, after his son revealed he is gay. The Cleveland branch amended its mission to include opposition to same-sex marriage, saying children deserve to be raised by a mother and father.

National Right to Life referred questions to its letter, which called the move by Cleveland a violation of national policy. The letter defines gay marriage as a non-right-to-life issue.

In between, at the state level, Ohio Right to Life President Mike Gonidakis declined to comment, saying it's between the national and local branches.

A question of effectiveness
Ron Rapoport is a government professor at William & Mary College.

"The right-to-life movement, at the national level, recognizes that the strength of the movement is their singular focus on the issue of abortion. It may well be that many people in that movement are opposed to gay marriage. But that movement is not the right vehicle for them to express that opposition."

Rapoport adds that the severing of ties may be the national organization's attempt to bring the Cleveland group back into the fold. But he does not see National Right to Life starting up a rival chapter in Northeast Ohio.

The Lake County Right to Life chapter also has added opposition to same-sex marriage to its mission statement, and both chapters say they will not support Portman as long as he supports gay marriage.
---
---
---
Stories with Recent Comments