Loading...


Environment



Tuesday, August 6, 2013




Ohio could beat EPA carbon emission standards by 2020




Study says the state is on track if it increases plant efficiency, transitions away from coal and consumers do their part


by WKSU's KABIR BHATIA


Reporter
Kabir Bhatia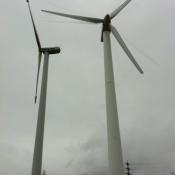 Ohio's energy generation from wind turbines went from 10 megawatts in 2010 to 426 megawatts in 2012
Courtesy of Kevin Niedermier
Download (WKSU Only)
In The Region:
A new study says Ohio is heading toward reducing carbon emissions by more than a quarter by the year 2020. And that's just if the state's energy companies keep doing what they're doing.
The report from environmental think tank, the World Resources Institute, says the power sector is on track to meet the EPA standards that are part of President Obama's Climate Action Plan introduced in June. Environmental researcher Michael Obeiter, one of the study's co-authors, says wind energy in Ohio increased from 10 megawatts in 2010 to 426 in 2012. Just a one-percent increase per year from now until 2025 will satisfy regulations, but "Ohio has a pretty significant wind resource. So there's a lot more that the state can be doing. They can augment that with solar power, geothermal power, there's a number of different options they can use to meet the renewable energy portfolio standards."
The report shows that coal generation dropped about a quarter from 2005 to 2011, and that many of those plants are aging. Obeiter says making them more efficient, and making the appliances used by consumers more efficient, will push Ohio toward a 27 percent cut by the end of the decade.
---
---
---
Stories with Recent Comments