Loading...


Education



Wednesday, August 7, 2013




UA President Proenza is stepping down, but first comes a raise, sabbatical, and then a 10-year contract




Proenza is the third Ohio public university president to announce to leave the job in as many months


by WKSU's KABIR BHATIA


and

AMANDA RABINOWITZ



Reporter
Kabir Bhatia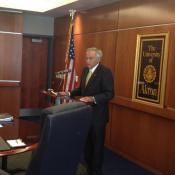 University of Akron President Proenza is retiring, but has nother dozen years of association with the University.
Courtesy of KABIR BHATIA
Download (WKSU Only)
In The Region:
University of Akron President Luis Proenza is stepping down next June after 15 years. He's been the longest continually serving president at a public university in Ohio.

Under a deal reached with the board of trustees today, the 68-year-old Proenza will get an 18 percent raise in January, bringing his base salary from $425,250 to $500,000. That pay will continue during a one-year sabbatical that begins in June.

After that, the contract will pay him 65 percent of his base salary, or $325,000 to fill the newly created Trustees' Chair in Higher Education and the Economy. Proenza will hold that chair for 10 years and has committed to raising $1 million to support it. His retirement comes at the same time as Lester Lefton at Kent State, Tom Chema at Hiram College and Gordon Gee at Ohio State University. Gee is also transitioning to a faculty position. Akron trustees will hold a special meeting in September to outline the steps to finding a new president.
---
---
---
Stories with Recent Comments