Loading...


Economy and Business



Wednesday, August 7, 2013




Diebold follows second-quarter loss report with buyouts




New CEO had warned of such cuts in June


by WKSU's TIM RUDELL


Reporter
Tim Rudell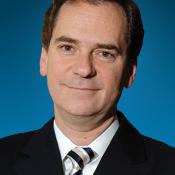 Diebold CEO Mattes had warned of big cost cutting earlier this summer.
Courtesy of Diebold
Download (WKSU Only)
In The Region:
Diebold lost close to $100 million last quarter, and is offering early retirement to 1,200 employees and freezing the pensions of 3,000 more. The northeast Ohio based ATM maker's new CEO Andreas Mattes says a 7 percent drop in revenue compared to the same period last year and continuing legal and tax problems in Brazil affected quarterly financial results. And, the personnel cost-cutting moves are in keeping with what he said when he took the helm of Diebold in June.
"We will have to focus on four areas to better our business. We have to make sure we get our cost structure in line. We will take the company back on a trajectory of growth. We will make sure that we better our cash position. And we have to make sure that we have the right talent in the right jobs in the right places."
There is no forecast of how many employees may opt for the Diebold early out plan. Also, the pension freeze will not affect current retirees; nor will it be a factor for new and future hires because they are in 401(k) programs.
---
---
---
Stories with Recent Comments