Loading...


Government and Politics



Wednesday, August 7, 2013




Ohio Statehouse Holocaust memorial will not be the first




Iowa's statehouse memorial will be dedicated in October




by WKSU's STATEHOUSE BUREAU CHIEF KAREN KASLER



Reporter
Karen Kasler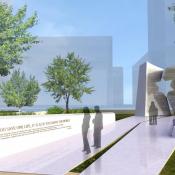 This rendering shows what the Ohio Statehouse Holocaust memorial will look like when completed.
Courtesy of Capitol Square Board
Download (WKSU Only)
In The Region:
After months of touting that Ohio's would be the first Statehouse in the country to have a Holocaust memorial, it will not. Iowa has already broken ground on a similar memorial, and will dedicate it in October, while construction of Ohio's memorial has not even started. Joyce Garver Keller is the executive director of Ohio Jewish Communities, which represents Ohio's eight Jewish federations. She says she told Gov. John Kasich that Ohio's Statehouse would be the first with a Holocaust memorial when he first proposed it in 2011, but in the end it really does not matter.
"I don't think the issue of being first is really significant or important in any way," Garver Keller says. "This is not about being the first. This is about creating a memorial to help legislators and visitors of the Statehouse understand the history of the Holocaust."
A contract to move the Ohio Holocaust Memorial project forward is expected to be signed any day now.

The privately funded project has generated some controversy. Former Sen. President Richard Finan resigned as head of the board that manages the Statehouse grounds, saying Kasich's office pushed too hard for this project and the board was losing its independence. And some groups are objecting to the Star of David in the memorial, saying the memorial will promote religion on government property.
---
---
---
Stories with Recent Comments