Loading...



From WKYC.COM / TV 3
Get the latest school closings and delays


Funding for WKSU is made possible in part through support from the following businesses and organizations.
---
For more information on how your company or organization can support WKSU, download the WKSU Media Kit.

(WKSU Media Kit


)
---

Education



Wednesday, August 7, 2013




University of Akron's Luis Proenza is stepping down as president after 15 years


But first, he's getting a raise and then will continue with the school on a one-year sabbatical and then a 10-year contract.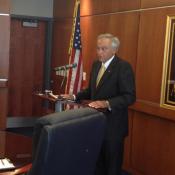 Since coming to Akron from Purdue University, Proenza has presided over a $620 million expansion of the campus, and led the creation of the $200 million Austen BioInnovation Institute.
Courtesy of K. Bhatia
Download (WKSU Only)
In The Region:
University of Akron President Luis Proenza is stepping down next June after 15 years. But as WKSU's Kabir Bhatia reports, he's set to become the university's highest paid faculty member and won't be leaving for another 13 years.
Proenza is the longest continually serving president at a public university in Ohio. Under a deal reached with the Board of Trustees today, the 68-year-old will get an 18 percent raise in January, bringing his base salary to half-a-million dollars. That will continue through a one-year sabbatical beginning next June.

After that, he'll make 65 percent of his salary to fill the newly created Trustees' Chair in Higher Education and the Economy. Proenza will hold that chair for 10 years and has committed to raising $1 million to support it. He says his new position allows him to continue contributing to the school, while doing the things he wants to do, before he can't do them.

"There's not a minute to lose. I have another full year in my presidency, and we have a number of things that we have chartered that we want to do. This is a 24/7 job. And I enjoy travelling with my wife and I enjoy doing many other things. She and I built a boat and I want to be sure to be able to use it."

Expanding Akron into Akron
Since coming to Akron from Purdue University, Proenza has presided over a $620 million expansion of the campus.


"An initial plan to build six new buildings became a plan to do 22 new buildings and 18 major additions and renovations, 34 acres of green space, 30,000 new trees and whatnot."

The revamp integrated the school more fully with the city while re-routing streets that previously criss-crossed through campus. Proenza also led the creation of the $200 million Austen BioInnovation Institute.

Some mixed reviews
Those are all big plusses according to biology Professor Stephen Weeks, who also heads the faculty union. But there are some changes he'd like to see with the new administration.

"Over time, there's been an amazing administrative bloat here. More and more of our resources have gone into the administrative aspect of higher education. Less and less as a proportion has been going to actual faculty: getting boots on the ground, so to speak, and getting full-time faculty in front of students. We have one of the greatest reliances on part-time people of any of the state universities."

The University of Akron's budget for the next year calls for an eight percent cut in administrative staff, plus six percent on the academic side. It's cutting 100 positions. The school is also closing two residence halls and increasing tuition two percent. It's part of a plan to close a nearly $30 million budget deficit, as enrollment dropped last year and was flat the year before.

Akron trustees will hold a special meeting in September to begin the search for a new president. Proenza's retirement comes at the same time as Lester Lefton at Kent State, Tom Chema at Hiram College and Gordon Gee at Ohio State University. Gee is also transitioning to a faculty position.
Page Options

Print this page

E-Mail this page / Send mp3

Share on Facebook
---
---
Stories with Recent Comments