Loading...



From WKYC.COM / TV 3
Get the latest school closings and delays


Funding for WKSU is made possible in part through support from the following businesses and organizations.
---
For more information on how your company or organization can support WKSU, download the WKSU Media Kit.

(WKSU Media Kit


)
---

Education



Monday, August 12, 2013




Professor says Ohio's Common Core could hurt schools and students




University of Oregon's Yong Zhao says testing and standards is supplanting developing individual talents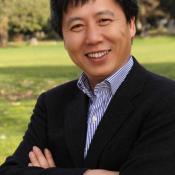 Professor Yong Zhao says that the focus of standardized testing and core standards does not help students.
Courtesy of University of Oregon
Download (WKSU Only)
In The Region:
The Common Core pushes Ohio schools in the wrong direction. That's what University of Oregon professor Yong Zhao says. Zhao will speak at Cleveland State University this month. He says the Common Core, a new set of standards that outline what students should know and be able to do in math and English, will bring more standardization and testing to schools. And he says what schools really need is less testing and more creativity. Zhao talked with StateImpact Ohio reporter Molly Bloom.
Zhao will speak at Cleveland State University this month and to members of the Ohio School Boards Association in the fall.
Page Options

Print this page

E-Mail this page / Send mp3

Share on Facebook
---
---
Stories with Recent Comments