Loading...


Government and Politics



Tuesday, August 13, 2013




US Sen. Sherrod Brown says Ohio needs to improve VA benefits




Brown says processing times are too long and compensation is inconsistant




by WKSU's STATEHOUSE BUREAU CHIEF KAREN KASLER



Reporter
Karen Kasler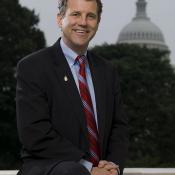 US Sen. Sherrod Brown says veteran benefit services need to improve.
Courtesy of Sherrod Brown
Download (WKSU Only)
In The Region:
Veterans seeking disability benefits often have a long wait ahead of them. The Veterans Administration says the average processing time for claims is 235 days. But with a backlog of 490,000 cases, the wait time can be even longer. US Sen. Sherrod Brown says he wants the VA to help link up vets with local veterans' organizations and people who have gone through the claims process before. And Brown says Ohio is still dealing with a reputation of being one of the worst states for veterans' benefits.
"It's starting to get better," Brown says. "We've had problems both in processing and in terms of what level of disability. A bum knee in Ohio isn't necessarily compensated the same as a bum knee in San Diego. It doesn't make sense."
Brown also wants legislation on processing veterans' claims that would set benchmarks and provide oversight of the VA. His office says the clock is ticking on passing these bills, since more than a million new disability claims are filed each year by veterans, and claims are getting more complex.
---
---
---
Stories with Recent Comments