Loading...


Sports



Saturday, August 3, 2013




Seven newest enshrinees enter the Pro Football Hall of Fame




Akronite Dave Robinson tells the audience "it's a game of hitting and getting hit"




Story by

KABIR BHATIA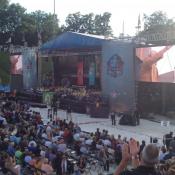 For its 50h Anniversary, the Pro Football Hall of Fame in Canton invited past enshrinees back to welcome the 2013 class
Courtesy of K. Bhatia
Download (WKSU Only)
In The Region:
Seven NFL legends are now in the Pro Football Hall of Fame, enshrined in Canton, Ohio on Saturday.
The 50th Anniversary class of the Hall of Fame includes Minnesota Viking Cris Carter, Dallas Cowboy Larry Allen, Warren Sapp of Tampa Bay, and Curley Culp of the Chiefs and Oilers.

Jonathan Ogden is the first enshrinee to play primarily for the Baltimore Ravens. And Bill Parcells is the only coach this year, the first to take four different teams to the playoffs.

Rounding out the class is Dave Robinson of the Green Bay Packers, who played – and won – the first two Superbowls in 1967 and '68.

"I tell people that when you play football, you have to like the taste of blood. And you gotta remember that 50 percent of the time, it's your blood."

Between them, this year's class has 7 Super Bowl rings and has played in 45 Pro Bowls.
For NPR News, I'm Kabir Bhatia in Canton, Ohio.
---
---
Stories with Recent Comments