Loading...


Government and Politics



Wednesday, August 14, 2013




New bill would require balanced budgets, pension plans for municipalites




Sponser says the bill is about responsibility, opponent says state is already putting pressure on cities




by WKSU's STATEHOUSE CORRESPONDENT JO INGLES



Reporter
Jo Ingles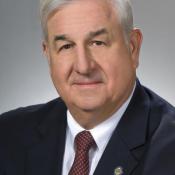 State Rep. Lou Terhar says municipalities need to be held accountable for pensions and budgets.
Courtesy of Ohio Statehouse
Download (WKSU Only)
In The Region:
A new bill would require Ohio municipalities to balance their budgets and maintain actuarially funded pension plans. Republican State Representative Lou Terhar is sponsoring the legislation. He says it is in response to more than 30 cities or political subdivisions throughout Ohio being in fiscal emergency, fiscal watch or fiscal caution.
"The only sovereign entity in the state of Ohio is the state of Ohio," Terhar says. "We can't go bankrupt. If one of the political subdivisions in Ohio goes bankrupt, we pay the bill. And therefore, all we are asking is that everybody plays by the same rules as we do."
Terhar's bill has the backing of Republican State Auditor Dave Yost.

But Kent Scarrett, spokesman for the Ohio Municipal League, says cities are already required to have balanced budgets in order to avoid scrutiny from the state auditor's office. And he says municipalities are having a hard time right now due to the state taking away local revenue from estate taxes.
---
---
---
Stories with Recent Comments